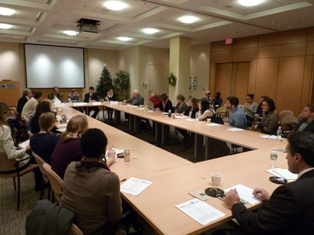 Hate speech in fragile democracies and divided societies can have catastrophic consequences. In Kenya, an outbreak of violence after the December 2007 elections left at least 1,000 people dead in six months. Malicious propaganda was spread via SMS, blog posts, and local language radio. In Russia, laws designed to contain the use of hate language are being manipulated by the government, which has twisted them to target nongovernmental organizations and individuals critical of the regime. In Serbia and Bosnia, negative portrayals of minorities are increasing tensions and rivalries among groups. In Afghanistan, warlords own a considerable number of media outlets which they manipulate and use against their opponents. In all cases, media have been used as a tool to spark intimidation and violence. What are the effects of legal measures taken to regulate hate speech in these regions? Can legislation to prohibit hate speech also threaten the foundations of democracy by limiting freedom of expression? Are there alternative approaches to address the problem of hate speech? What broader lessons can the media development community learn from these case studies?
Click Here to Listen to an Audio Recording of the Discussion
---
Featuring
Migai Akech
Reagan-Fascell Fellow, National Endowment for Democracy (Kenya)
Ivana Howard
Program Officer for Southeastern Europe, National Endowment for Democracy
Nikolay Rudenskiy
Reagan-Fascell Fellow, National Endowment for Democracy (Russia)
Najibullah Sharifi
Humphrey Fellow, University of Maryland (Afghanistan)
Moderated by
David Lowe
National Endowment for Democracy 
---
About the Panelists
Migai Akech is an academic based in Nairobi, Kenya.  He is a graduate of the University of Nairobi, Cambridge University, and New York University (NYU) School of Law, where he was a Hauser Global Scholar. He has taught at the University of Nairobi, where he was a senior lecturer, and at NYU's School of Law.  Akech is the author of numerous publications, including Privatization and Democracy in East Africa: The Promise of Administrative Law (2009). During his fellowship at the National Endowment for Democracy Akech is examining how the distribution of power within Kenya's executive, legislative and judicial branches of government affects democratic governance.
Ivana Howard is program officer for Central and Eastern Europe at the National Endowment for Democracy. In this capacity, she manages the NED democracy assistance program in six Balkan countries. Prior to joining NED in 2005, Howard supported several USAID funded development projects including a World Trade Organization accession program in Serbia. She also worked for the United Nations Information Center in Washington, D.C. Her previous experiences include training U.S. soldiers deploying to the Balkans in languages, politics, history, and culture of the region, as well as supporting the NATO peacekeeping mission in Bosnia and Herzegovina after the signing of the Dayton Peace Accords. Howard received her Master of Public Administration from Bowie State University in Germany and an MA in Democracy and Human Rights in Southeast Europe from University of Sarajevo and University of Bologna.
Nikolay Rudenskiy is the deputy editor of Grani.Ru (www.grani.ru), an independent online media outlet. Trained as an ethnographer, he is the author of about 40 scholarly publications and more than 100 journalistic commentaries focusing mostly on public issues in today's Russia, including defending freedom of the press, exposing persecution of the regime's opponents and other human rights violations, and combating racism and other forms of bigotry. During his fellowship, Rudenskiy plans to compare and contrast various approaches to the issue of hate speech in Russia and the United States.
Najibullah Sharifi has been working for National Public Radio as a field producer in Afghanistan for six years. He has worked with The Washington Post, The New York Times, BBC, The Wall Street Journal, and many other western news outlets. He has also worked as senior national political officer for the Office of the Special Representative of the European Union for Afghanistan. He was a researcher for Human Rights Watch and the Afghanistan-based international think tank Afghanistan Research and Evaluation Unit. He is currently a Humphrey fellow at the University of Maryland.