---
Hosted by the Center for International Media Assistance
and the Middle East and North Africa Program
at the National Endowment for Democracy
Featuring:
Abir Awad
BBC Media Action
Tim Eaton
BBC Media Action
Theo Dolan
United States Institute of Peace
Shameem Rassam
Alhurra-Iraq
Moderated by:
Rahman Aljebouri
National Endowment for Democracy
---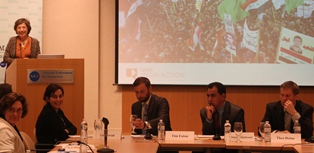 It is a decade since the U.S.-led coalition troops entered Iraq in March 2003. "The years that have followed have been turbulent for an Iraq riven by divisions and sectarian violence, as elites have battled one another for control," according to a policy briefing by BBC Media Action, The media of Iraq ten years on: The problems, the progress, the prospects. "It remains a country that is anything but stable and united." The event's panelists presented and discussed the report at CIMA's event on April 30, 2013. Although the paper makes the point that while the Iraqi media landscape of 2013 may not be the free, pluralistic, and professional fourth estate that many in the West had envisioned in 2003, it nonetheless has real strengths. Those strengths–as well as weaknesses– reflect the complexity and reality of modern Iraq.
---
About the participants:
Abir Awad is BBC Media Action's country director for Iraq. Her key focus during the past nine years has been supporting BBC Media Action's biggest media development project, during which she established a radio station in southern Iraq. She has also managed a large-scale, regional project through which she supported the development of mainstream mass distribution drama series focusing on themes that help improve governance. Her areas of interest are in encouraging indigenous media that provides a public service and with the funding models for media in the Middle East. Before joining BBC Media Action, Awad spent ten years as a senior news executive with the commercial television news provider in the United Kingdom, followed by a two-year communications consultancy for the International Committee of the Red Cross and other nonprofit organizations.
Tim Eaton is assistant project manager for Iraq at BBC Media Action, where he has been based for the last two years. Previously, he was a research coordinator for Chatham House, the Royal Institute of International Affairs. He holds a master's degree in Middle East politics from the University of Exeter and a diploma in Arabic from the School of Oriental and African Studies in London. Eaton has traveled extensively in the Middle East, working in Cairo and Damascus. He has written for a range of publications, from magazines to think tank and academic journals.
Theo Dolan is a senior program officer at the United States Institute of Peace's Center of Innovation for Media, Conflict and Peacebuilding. Since joining USIP in 2008, Dolan has worked with local partners in Iraq, Afghanistan, Pakistan, and South Sudan to develop innovative ways to use media to help resolve conflict. His expertise includes producing curriculum-based peace media programs such as the Salam Shabab TV show in Iraq as well as promoting conflict-sensitive reporting and effective regulation to limit media incitement to violence. Prior to joining USIP, he served for two years as a media specialist for the Public Sector Governance team at the World Bank Institute (WBI). At WBI, he focused on promoting access to public information and strengthening the role that media plays in establishing accountability and governance. Dolan spent the previous five years working on media development projects at the International Research & Exchanges Board (IREX), a Washington-based NGO. Specifically, he managed projects designed to strengthen independent media in Europe, Eurasia, and the Middle East/North Africa through training and business management assistance. Dolan holds a master's degree from Georgetown University's School of Foreign Service and a bachelor's degree from Middlebury College.
Shameem Rassam is executive producer of Alhurra-Iraq, a U.S. government-sponsored Arabic-language television channel, where she serves as a producer for news and current events programming. Since 2003, she has worked as a senior analyst and instructor at SAIC for various U.S. government clients, focusing on Islamic extremism and ideology, propaganda analysis, and civil society issues throughout the Arab world. From 2003-2004, she worked in Iraq managing two national radio stations and the al-Iraqiyah satellite television station.  In this capacity, she was responsible for all editorial content and served as a liaison to the Coalition Provisional Authority, the Iraqi Governing Council, cabinet members, and local ethno-religious bodies. From 1998-2003, Rassam worked as a translator and host at IBB WorldNet and as a reporter, producer, and broadcaster for the Voice of America. From 1990-1998, she was a manager and journalist for the Arab Network of America, where she served as anchor, producer, and special events coordinator. Before coming to the United States, she spent 20 years working for Iraq's Ministry of Information. Rassam founded Iraq's first FM radio station and served as television anchor, producer, and host, and she was the first female Iraqi journalist to cover the Iran-Iraq War.