The International Women's Media Foundation Courage in Journalism Awards honor women journalists who have shown extraordinary strength of character and integrity while reporting the news under dangerous or difficult circumstances. Including this year's honorees, 69 journalists have won Courage Awards. Join us for a discussion with this year's award winners, Claudia Julieta Duque, an investigative journalist and correspondent for Radio Nizkor in Colombia, and Vicky Ntetema, a freelance journalist in Tanzania.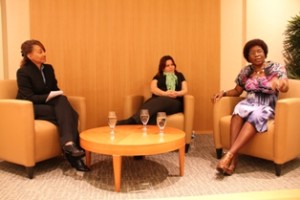 ---
---
 Featuring:
Claudia Julieta Duque
Radio Nizkor, Colombia
Vicky Ntetema
Freelance journalist, Tanzania
Moderated by:
Cynthia Tucker
Pulitzer Prize-winning columnist for the Atlanta Journal-Constitution
---
About the Participants:
Claudia Julieta Duque
Threats, harassment, surveillance, kidnapping. This is Claudia Julieta Duque's daily life. As a correspondent for Radio Nizkor in Colombia, Duque tackles some of the most difficult stories in her country—child trafficking, illegal adoption and infiltration of the paramilitary into all levels of Colombian society. But the story that changed her life and that of her family was the unsolved murder of political satirist and journalist Jaime Garzon. In July 2001, during her investigation of the 1999 murder of Garzon, Duque was kidnapped, robbed, and told to stop her reporting. She did not. She tenaciously continues to uncover the truth.
Vicky Ntetema
In a country where albinism is seen as something to hide, where albinos are called zeru-zeru, or ghosts, the courage of one woman changed the course of the lives of many. Vicky Ntetema reported that witch doctors were paying people to kill Albinos to harvest their organs and limbs to be used in potions. She went undercover to unmask this barbarous practice and put her life at risk when she was discovered. Since she uncovered the truth, 200 witch doctors have been arrested. Due to continued threats, Ntetema must now report from behind a veil, in order to mask her identity.
Cynthia Tucker
Cynthia Tucker is a Pulitzer Prize-winning columnist whose commentary appears in dozens of newspapers around the country. She is also a frequent television commentator. After serving for several years as editorial page editor of The Atlanta Journal-Constitution, Tucker is currently the newspaper's Washington, D.C.-based national political columnist. She is a former board member of the International Women's Media Foundation.