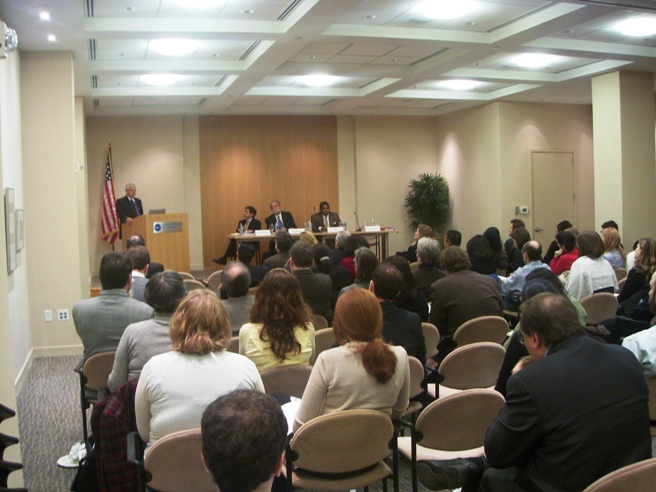 Since the 1980s, the Sri Lankan government has been engaged in a conflict with various militant separatist groups from the country's Tamil ethnic minority. According to Freedom House's Freedom in the World 2008, the conflict has not only led to human rights violations, it has also weakened the rule of law, political pluralism, and civil liberties, resulting in the government's lack of political accountability and transparency. In particular, increasing violence against journalists during the conflict has seriously jeopardized press freedom in Sri Lanka. The recent murder of Lasantha Wickramatunga, editor of Sri Lanka's Sunday Leader and a critic of the government, underscores how volatile the situation has become for media workers.
As the Committee to Protect Journalists notes in Sri Lanka Special Report: Failure to Investigate, those who criticize the government's policies or speak out in favor of a political settlement face measures such as newspaper closures, the blocking of Web sites, arbitrary arrests and detentions, censorship, and intimidation, often in the name of national security. Moreover, Human Rights Watch observes that as Sri Lanka's conflict has escalated in recent months, threats against journalists and human rights defenders have continued and grown more serious. The government has refused journalists access to conflict areas, depriving the public of independent information about the increasing humanitarian crisis and continuing human rights abuses by both parties to the conflict in the north.
How have these restrictions affected journalists' ability to report independently and critically about the war? How have they affected the development of independent media in Sri Lanka in general? Do such infringements on civil liberties ultimately guard against terrorism? And what implications do they have for the development of Sri Lankan political culture and democracy? What can stakeholders-policymakers, NGOs, donors, and Sri Lankan civil society-do to enhance freedom of expression in the country?
---
Featuring
The Honorable Arthur E. (Gene) Dewey
U.S. representative
International Independent Group of Eminent Persons, Sri Lanka
Bob Dietz
Asia Program Coordinator
Committee to Protect Journalists
Paikiasothy Saravanamuttu
Executive Director
Centre for Policy Alternatives
Moderated by
Brian Joseph
Director, South & Southeast Asia Program
NED
---
About the panelists:
Arthur E. "Gene" Dewey is the U.S. representative on the International Independent Group of Eminent Persons dealing with human rights violations in Sri Lanka, a position to which he was appointed by Secretary of State Condoleezza Rice in December 2006. Prior to that, he served as the Assistant Secretary of State for the Bureau of Population, Refugees, and Migration at the U.S. Department of State for over four years. From 1996-2001, Dewey was a consultant with Booz-Allen and Hamilton in civil-military training simulations, bringing realistic political and humanitarian dimensions into post-Cold War military training exercises. Before that, he was the founding director of the Congressional Hunger Center, the successor to the House of Representatives Select Committee on Hunger. Dewey has served in a number of public service posts, including as director of the Office of Emergency Humanitarian Assistance to the former Soviet Union; Deputy Assistant Secretary with the Bureau for Refugee Programs at the State Department; and the United Nations Deputy High Commissioner for Refugees in Geneva. In his twenty-five years as a military officer, Dewey's assignments ranged from two Vietnam combat aviation assignments to chief of the Army's Political-Military Division in the Pentagon. During his Vietnam battalion command, he was awarded the Distinguished Flying Cross. He also received the West Point Distinguished Graduate Award from the United States Military Academy at West Point in recognition of more than 43 years of extraordinary public service in 2006. Dewey received his Master's degree from Princeton University.
Bob Dietz is the Asia program coordinator at the Committee to Protect Journalists. Prior to that, Dietz worked as a journalist in Africa, the Middle East, Asia, and the United States. He started as a freelance journalist in Tanzania, moving to Uganda after the departure of Idi Amin, and then to Somalia in 1981. He was a cameraman and bureau chief in Cairo and Beirut for Visnews, now Reuters TV, covering the Israeli invasion of Lebanon and its aftermath. He moved to Asia as a bureau chief for NBC News in Seoul and then in Manila, where he opened the network's bureau shortly before the downfall of the Marcos regime. In 1995, Dietz moved to Hong Kong with his wife, Donna Liu, who opened CNNI's Asia Production Center. After seven years as a senior editor at Asiaweek magazine, he returned to the United States and worked with the World Health Organization, handling media relations and risk communication during the SARS and avian influenza outbreaks. While at WHO, he worked closely with local and foreign reporters across Asia. Since joining CPJ in January 2006, Dietz has continued to travel widely in Asia, including reporting trips and CPJ missions to Afghanistan, China and Hong Kong, Pakistan, Sri Lanka, and Thailand.
Paikiasothy Saravanamuttu is the executive director of the Centre for Policy Alternatives, an independent and non-partisan public policy institute focusing on issues of democratic governance and peace through programs of research and advocacy. Dr. Saravanamuttu is a co-convener of the Centre for Monitoring Election Violence and a member of the board of the Sri Lanka Chapter of Transparency International. He has been on the Advisory Committee of the Free Media Movement and served as a member of the Foreign Affairs Study group of the Foreign Ministry of Sri Lanka. He has been quoted widely in the domestic and international media on the political situation in Sri Lanka, and has presented papers at a number of international conferences on governance and security issues. He was also a member of the Advisory Group to the UN Country Team in Sri Lanka to help develop the UN Common Country Assessment and the UN Development Assistance Framework.