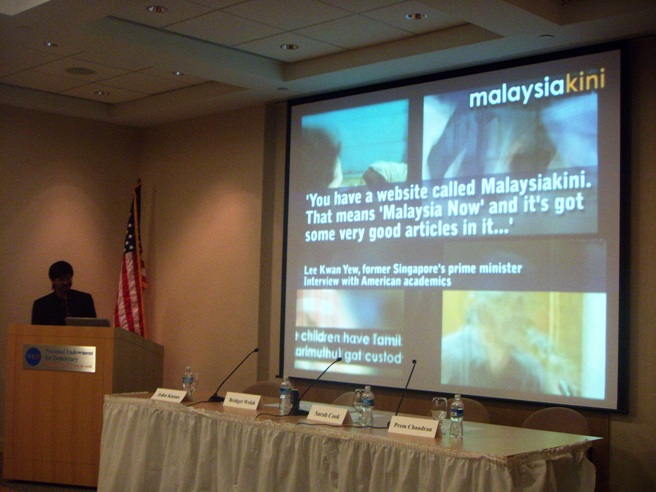 According to the Committee to Protect Journalists, online journalists in Malaysia report more freely than their traditional media counterparts, who are subject to strong governmental intimidation and restrictions. Internet publications, such as Malaysiakini, frequently cover stories on government corruption, minority rights demonstrations, and opposition parties. With well over half of the population accessing the Internet, according to the International Telecommunications Union, online media have increased citizens' access to alternative news and information sources, challenging the government's monopoly on coverage.
As Reporters Without Borders notes, however, recently the government has expanded its legal tactics to silence criticism from online media, including filing defamation suits. In 2008, the government announced that national security laws, such as the Internal Security Act and Sedition Act, which carry significant prison penalties, will be applied to online media outlets and bloggers. In the past, these threats of imprisonment and license revocation have engendered a strong culture of self-censorship in the traditional media, and it is unclear how they will affect the thriving online community.
Premesh Chandran discussed key strategies that have worked for his site, Malaysiakini, and other new approaches being developed to deal with recent moves by the government to restrict freedom of the press online. Bridget Welsh of Johns Hopkins University's SAIS provided an overview of the contemporary political context in Malaysia and how new media are perceived as a threat by some in the current government. Sarah Cook shared findings about Malaysia from Freedom on the Net, a new study by Freedom House on Internet rights, and how online freedoms in Malaysia compare with those in other countries.
Asia Barometer Survey
Malaysia Director, and, in collaboration with the Merdeka Center, has conducted surveys of political attitudes in Malaysia, which will be published in a forthcoming monograph, "How Malaysians Think about Politics." She is completing an analysis of Malaysian voting behavior and the electoral system during the last ten years, as well as a project examining local dynamics in elections. She is the former chair of the Malaysia, Singapore, Brunei Studies Group and a consultant to Freedom House. In 2004, she received a fellowship sponsored by the Henry Luce Foundation at the Australian National University, and in 2006, received a U.S. Institute for Peace research grant to examine Islamist parties in Malaysia and Indonesia. Welsh received a doctorate from the Department of Political Science at Columbia University, an M.A. from Columbia University, and a B.A. from Colgate University.
Featuring
Premesh Chandran
Malaysiakini.com
Bridget Welsh
School of Advanced International Studies, Johns Hopkins University
Sarah Cook
Freedom House
Moderated by
John Knaus
National Endowment for Democracy
---
About the Panelists:
Premesh Chandran is the co-founder and CEO of Malaysiakini.com, the leading online media site in Malaysia, reaching over 300,000 readers daily in four languages-English, Malay, Chinese, and Tamil. Under Chandran, Malaysiakini has won various international awards, including Asiaweek's "Asia's Most Powerful Communicators" (2001) and Businessweek's "Stars of Asia" (2001), as well as accolades from the International Press Institute, the Committee to Protect Journalists, and Reporters Without Borders. The site has also been featured in various books and journals, most recently in the International Journal of Press/Politics. Malaysiakini is the only media organization in Southeast Asia to be nominated to the World Economic Forum's International Media Council. Chandran is also the founder and program advisor to Malaysiakini's non-profit training organization, the Southeast Asian Centre for E-media (SEACEM), which has trained more than 500 people in Asia in new media journalism. Chandran has been an activist for human rights and democracy in Asia since his university days. He has worked as a lecturer, researcher with the Malaysian Trades Union Congress, and senior writer at The Sun, a Malaysian daily newspaper.
Bridget Welsh is an associate professor in the Southeast Asia Studies Program at Johns Hopkins University-SAIS in Washington, DC, where she teaches courses on Southeast Asian history, domestic politics, regional international relations, democratization, and gender politics. Welsh is also the
---
Sarah Cook is an Asia researcher at Freedom House and assistant editor for the Freedom on the Net index. She has served as assistant to the editor of the 2008 Freedom of the Press index and analyst for both that publication and Freedom in the World. Her research has covered human rights and media developments in East Asia, Indochina, and the Middle East, including recent fact-finding trips to Hong Kong and Taiwan. She has also been a country report author on China for a recent Freedom House publication on the status of freedom of association. Before joining Freedom House, she co-edited the English translation of A China More Just, a memoir by prominent rights attorney Gao Zhisheng, and was twice a delegate to the United Nations Human Rights Commission meeting in Geneva for an NGO working on religious freedom in China. She received a B.A. in International Relations from Pomona College and, as a Marshall Scholar, completed Master's degrees in Middle East Politics and Public International Law at the School of Oriental and African Studies in London.