---
---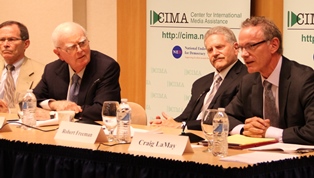 Over the last 20 years, a global right-to-information movement has created a new norm for any government that claims to be democratic. This has included passage of more than 90 freedom of information laws throughout the world, many of which are recently enacted and exemplary on paper. However, due to a lack of political will and inconsistent implementation, many of these laws have been ineffective. This event, cohosted by CIMA and ISLP, examined how public officials and journalists can breathe life into FOI laws and what stakeholders in government, civil society, and the media can do to strengthen the implementation of FOI laws. The discussion focused on how local and national governments and the media development community can make freedom of information laws more effective and thus improve the quality of democratic governance worldwide.
---
Featuring:
Robert J. Freeman
New York State Committee on Open Government
Craig LaMay
Northwestern University
Moderated by:
David Lowe
National Endowment for Democracy
Opening remarks by:
Marguerite Sullivan
Center for International Media Assistance
Richard Winfield
International Senior Lawyers Project
Thursday, September 12, 2013
12:00 p.m. – 2:00 p.m.
---
About the Speakers: 
Robert Freeman is executive director of the New York State Committee on Open Government. He has worked for the committee since its creation in 1974 and was appointed executive director in 1976. Freeman has addressed numerous government-related organizations, bar associations, and media groups and has lectured at various colleges and universities. He has also spoken on open government laws and concepts throughout the United States, as well as Canada, Asia, Latin America, and Eastern Europe. Freeman is the recipient of numerous honors, and in the spring of 2010, he received the John Peter Zenger Award from the New York News Publishers Association and was selected by the National Freedom of Information Coalition and the Society of Professional Journalists for their Heroes of the 50 States award. Most recently, Freeman was given the Lifetime Achievement Award by the New York State Associated Press Association. He received his law degree from New York University and a BS in Foreign Service from Georgetown University.
Craig LaMay is an associate professor at Northwestern University's Medill School of Journalism, where he teaches communications law and is a faculty associate at Northwestern's Institute for Policy Research.  He is a member of the advisory board of the Center for International Media Assistance at the National Endowment for Democracy. LaMay is former editorial director of the Freedom Forum Media Studies Center and editor of Media Studies Journal, and early in his career reported for the Raleigh (NC) News & Observer. His essays and articles have appeared in numerous publications, and he is author or co-author of several books.  LaMay's research and professional interests are media development in democratizing and post-conflict societies; comparative speech law; commercial and public broadcast regulation; and sport as a social institution. He has a BA from Brown University and an MA from the University of North Carolina at Chapel Hill.
Richard N. Winfield served as general counsel for the Associated  Press for more than three decades.  He leads the Media Law Working Group of the International Senior Lawyers Project, an NGO he co-founded in 2000. He has provided pro bono legal services in more than 20 countries, most recently Burma, to assist in enacting progressive media laws and in defending journalists undergoing prosecution. Much of his work involved enacting effective freedom of information laws. He serves on the Advisory Council of the Center for International Media Assistance at the National Endowment for Democracy. His book, Exporting the Matrix: The Campaign to Reform Media Laws Abroad, was published last year. He regularly teaches comparative mass media law at Columbia Law School and mass media and Internet law at Fordham Law School.
David E. Lowe is the vice president for government relations and public affairs at the National Endowment for Democracy. In this capacity he heads the office responsible for outreach to Capitol Hill, the endowment's government and media relations, and the operation of the World Movement for Democracy and the Center for International Media Assistance. Lowe joined the NED in 1989, having served previously as an official in the national office of the Anti-Defamation League and a member of the political science faculty at Drew University. At Drew, he served as director of the university's off-campus programs in Washington and London. While in the latter role, he was a frequent speaker for the U.S. Information Agency in Europe and the United Kingdom. Lowe holds MA and PhD degrees from Johns Hopkins and a BA degree from Brandeis. He has been an adjunct faculty member at George Washington University's Graduate School of Political Management and teaches a course for the Washington Semester program of Lewis and Clark College.