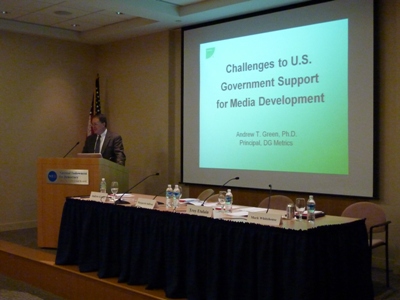 Over 50 people attended CIMA's discussion on Challenges to U.S. Government Support for Media Development. Media play a pivotal role in U.S. foreign policy—but U.S. funding doesn't reflect this reality. There are significant resource shortfalls in government support of the media development sector. Too few media experts, not enough media know-how, and potentially problematic funding mechanisms are just a few of the challenges facing the media development sector. In Challenges to U.S. Government Support for Media Development, Andrew Green looks at the causes of these impediments and offers recommendations for addressing them.
Andrew Green addressed the issues surrounding U.S. government support for media development and offered a variety of recommendation in his presentation. For media development projects to succeed, Green argued, the government needs a simpler funding mechanism, more emphasis on media assistance efforts, and increased project budgets. Troy Etulain and Mark Whitehouse provided their reactions to Challenges to U.S. Government Support for Media Development and discussed some of the challenges they have faced in supporting media development.
---
Featuring
Andrew Green
Author, Challenges to U.S. Government Support of Media Development
With Comments by
Troy Etulain
U.S. Agency for International Development*
Mark Whitehouse
IREX
Moderated by
Marguerite Sullivan
Center for International Media Assistance
---
About the Author
Andrew Green is principal of DG Metrics, a consultancy focusing on applied research in U.S. foreign assistance, and an adjunct professor in Georgetown University's M.A. program in Democracy Studies. He was a senior democracy fellow at USAID's Office of Democracy and Governance in 2004‑2006, responsible for implementing a project to analyze the impact of U.S. democracy assistance. Green provides expertise in applied research, evaluation, and indicators for democracy and governance projects. Current projects include development of assessment and evaluation methodologies for political party assistance; creation and testing of an election index; an evaluation of the U.S. Institute of Peace's annual grant competition program; and various proposals for USAID global procurement mechanisms.
About the Panelists
Troy Etulain joined USAID in July 2007 as a senior advisor for media development with a global purview. His regional expertise includes the former Soviet Union, Southeast Asia and East Africa. Since joining USAID, Etulain has focused on programming in especially repressive countries. Prior to joining USAID, Etulain was a news reporter for Bloomberg News, covering Georgia and Armenia. He also spent more than two years as Internews Network's country director in Tajikistan, working on projects including founding community radio stations and training and equipping private television stations. From 1996-98 Etulain served as a Peace Corps volunteer in a village in the Russian Far East.
*Note: Troy Etulain's comments reflected purely his own opinions and experiences. They do not represent the opinions or policies of USAID.

Mark Whitehouse is the director of Media Development Programs at the International Research & Exchanges Board (IREX). He has more than 15 years of experience in democratic and media development programming. As the director of IREX's Media Development Division since 2001, he has developed and overseen media projects in Africa, Asia, Europe, and Eurasia. Whitehouse also worked for the director of the Carter Center's Commission on Radio and Television Policy; served as administrator of USSR Programs at American Councils of Teachers of Russian (ACTR, now known as American Councils of International Education); and was a development associate at USAID. He has conducted research on ethnic politics at the Russian Academy of Sciences' Institute of Ethnography in Moscow. He currently serves on the board of directors of IREX Europe.