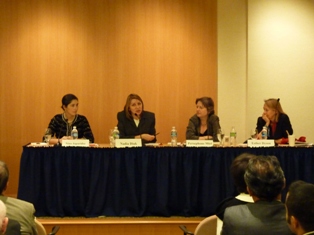 Recent arrests of prominent bloggers in Azerbaijan, government control of TV stations in Georgia, and legal restrictions combined with continued violence against journalists in Armenia highlight the repressive media environment in the South Caucasus. Freedom of the Press, an annual survey of media independence in 195 countries and territories conducted by Freedom House, has given all three countries increasingly worse media freedom scores over the past few years. What space, if any, exists for independent reporting in each of these countries? Could a proposed media law restricting freedom of speech in Azerbaijan be evidence of greater legal restraints to come? Can citizens go beyond state-controlled media to access alternative sources of news and information? What will lead citizens to demand and support a free and open press? How can U.S. policy makers help reverse the course of declining press freedom in the region?
---
Featuring
Esther Dyson
EDventure Holdings
Nino Japaridze
University of Oxford
Persephone Miel
Internews Network
Moderated by:
Nadia Diuk
National Endowment for Democracy
---
About the Panelists
Esther Dyson is chairman of EDventure Holdings, and spends most of her time advising start-ups as a board member or investor. Her investments include Flickr and del.icio.us (sold to Yahoo!), Medstory and Powerset (sold to Microsoft), Dopplr (sold to Nokia), and many others. Currently, she sits on the boards of 23andMe (consumer genomics), Airship Ventures (the Zeppelin), Boxbe (mail filtering), Eventful.com (events), Evernote (note- and photo storage and sharing), IBS Group (Russian computer services), Meetup (services for face-to-face meeting organizers), NewspaperDirect (licensed online news), WPP Group (marketing/communications) Yandex (Russian search). She also sits on the board of directors at the Eurasia Foundation, the National Endowment for Democracy, the Personal Genome Project, StopBadware.org (online security) and the Sunlight Foundation (government transparency). She began her career as a fact-checker for Forbes Magazine, and continues to write for entities such as Huffington Post and Project Syndicate. She has served for a number of years as the NED board's expert on projects in the Caucasus and Central Asia regions.
Nino Japaridze is pursuing a PhD in politics at St. Antony's college at the University of Oxford. In her dissertation Japaridze is examining the influence of media on democratic attitudes and behavior in post-Soviet Georgia. Her research is based on the theoretical assumption that media's role in democratic transitions is contingent upon specific media environments and political and cultural contexts. Japaridze brings 12 years of experience in public opinion research across Eurasia. Between 2000 and 2006 she lead InterMedia Survey Institute's research program in Georgia, Armenia, Azerbaijan, Russia (including Chechnya, Dagestan, Circassia and Tatarstan), Belarus, Kazakhstan, Kyrgyzstan, Tajikistan, Uzbekistan, and Turkmenistan. Since 1995 Japaridze has consulted on strategic issues of public diplomacy and media content development for societies in former Soviet republics for the U.S. Broadcasting Board of Governors, various international broadcasters, and other public and private sector organizations.
Persephone Miel began working for Internews Network in Moscow in 1994, initially organizing training events for Russian television personnel. As Internews launched programs in all three South Caucasus countries and in Central Asia, she helped design and implement training for those countries as well, traveling frequently to Armenia, Azerbaijan and Georgia. As regional director for Europe and Eurasia, she continued to oversee a wide range of media development projects in the South Caucasus, including the groundbreaking Crossroads pan-Caucasus TV program and its youth-created successor, Kids' Crossroads. From the end of 2008 through the end of 2009, Miel was a fellow at the Berkman Center for Internet and Society at The Harvard Law School, where she directed the Media Re:public project, examining the impact of participatory journalism on the news and information environment in the United States. In 2008, she returned to Internews as senior advisor, working primarily on global programs related to the Internet.