On March 1, CIMA hosted the discussion "Democracy, Dissent, and Digital Media in the Arab World" on Capitol Hill, exploring the role digital media have played in mobilizing protesters throughout the region and transmitting information in real time around the globe. The honorary co-hosts for the event were Senator Richard Lugar (R-Ind.) and Representatives Adam Schiff (D-Calif.) and Michael Pence (R-Ind.), co-founders of the Congressional Caucus for the Freedom of the Press.
NED's Program Officer for MENA, Amira Maaty, discussed how democracy activists are using digital tools to mobilize protesters and organize support. She examined the difference between citizen journalism and social media, which, together, can help push news items onto the agenda of state-sponsored outlets that might otherwise suppress the information; and digital activism, which uses mobile technologies to advance social and political change. Maaty stressed the importance of donors and policymakers supporting the innovators behind the technology, as well as the tools.
Mona Eltahawy, an award-winning columnist and blogger on the MENA region, noted that social media have provided a virtual space for young people to openly express their opinions, including their frustration with unemployment and corruption. Citizens have been using these tools in a much more political way than their Western counterparts since 2005, she argued, saluting their courage and highlighting the importance of citizens' agency and voice.
Georgetown University's Michael Nelson outlined technology's role in the political shifts currently taking place, comparing it with the invention of the printing press and the Reformation or the distribution of sermons on cassette tapes during the upheaval in Iran in the 1970s. He echoed Eltahawy's point that the Internet didn't invent courage, citing that "the pre-requisite was courage, while the technology enabled." Nelson also cautioned that leaders in authoritarian states can also use digital media to their advantage through cyber-surveillance and propaganda.
Al Jazeera's Abderrahim Foukara reminded the audience of the importance of satellite television in helping to "connect the dots" between digital and traditional media. While it served to verify—or discount—reports on social media platforms, it also covered events and perspectives that state media falsely reported or ignored. He stressed the ability of television to bridge access issues across generations and language/literacy barriers, highlighting its vital role in informing older and less technologically savvy citizens.
All panelists agreed that some observers have overstated and oversimplified the role of digital media in the revolutions. They cautioned the need to give credit to both the tool and the people. Looking forward, Nelson summarized the speakers' sentiments well, "we may have had the Facebook Revolution, but now we need the Meetup government."
Honorary Co-Hosts:
Senator Richard Lugar
Representative Adam Schiff
Representative Mike Pence
Congressional Caucus for Freedom of the Press Co-Chairs
Remarks by:
Congressman Adam Schiff
U.S. House of Representatives
29th District, California
Click Here to Watch Video of Remarks
Moderated by: 
Carl Gershman
President
National Endowment for Democracy
Click Here to Watch Video of Remarks  
 Featured Speakers: 
Mona Eltahawy
Egyptian Journalist/Blogger
Click Here to Watch Video of Remarks
Abderrahim Foukara
Washington Bureau Chief
Al Jazeera
Click Here to Watch Video of Remarks 
Amira Maaty
Program Officer for the Middle East and North Africa
National Endowment for Democracy
Click Here to Watch Video of Remarks 
Michael Nelson
Visiting Professor of Internet Studies
Georgetown University
Click Here to Watch Video of Remarks
Presentations were followed with questions from the audience.
Click Here to Watch Video of the Q&A
About the Participants: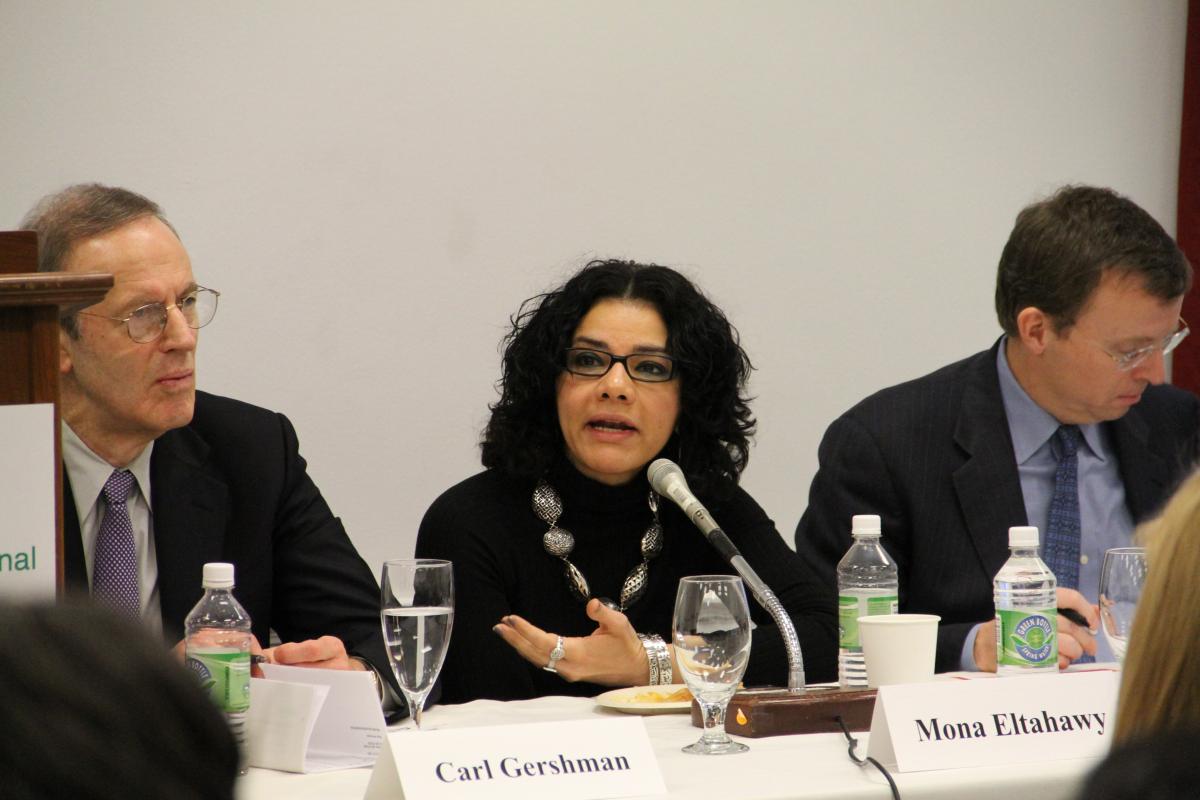 Mona Eltahawy is an award-winning journalist and an international public speaker on Arab and Muslim issues. She is a columnist for Canada's Toronto Star, Israel's The Jerusalem Report and Denmark's Politiken. Her opinion pieces have also been published in the Washington Post and the International Herald Tribune. Before moving to the United States in 2000, Eltahawy was a news reporter in the Middle East for many years, including in Cairo and Jerusalem as a Reuters correspondent. In 2010, the Anna Lindh Foundation awarded Eltahawy its Special Prize for Outstanding Contribution to Journalism, and the Estlow International Center for Journalism and New Media at the University of Denver gave her its Anvil of Freedom Award.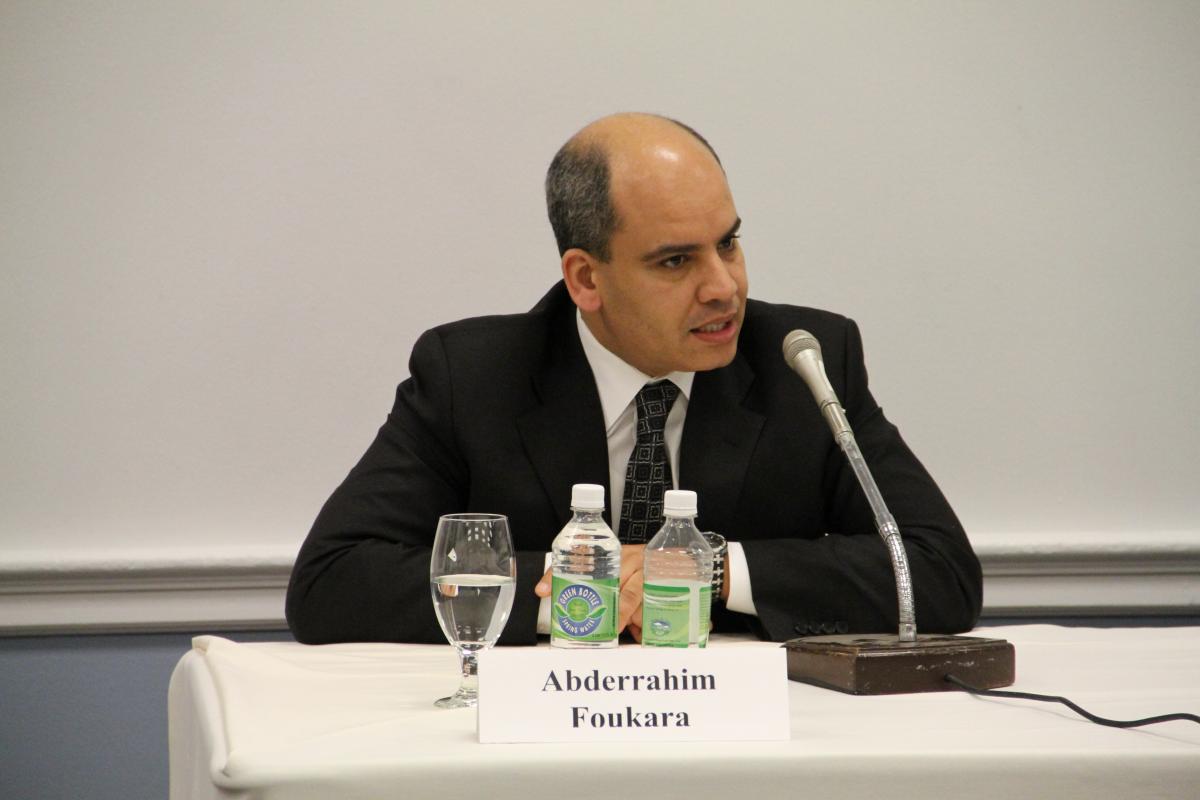 Abderrahim Foukara is bureau chief for al-Jazeera's United States operations in Washington, D.C., where he manages a team covering a broad range of political, cultural, and economic issues. Foukara also hosts the weekly show Min Washington (From Washington), which features U.S. specialists and policy makers. Prior to joining al-Jazeera, Foukara worked in various departments of the BBC, including Arabic, French, African, and journalism training, and in various capacities, including producer, reporter, anchor, and senior instructor. He also served as producer and reporter for The World, a co-production of the BBC, Public Radio International, and WGBH Boston.
Amira Maaty is a program officer on the Middle East and North Africa (MENA) team of the National Endowment for Democracy where she focuses on Egypt and Libya. Prior to joining the NED, she served as a senior program officer at IREX overseeing international training and education programs. She has also held positions at Internews Network coordinating journalism training programs in the MENA region. Amira holds a bachelor's degree in International Affairs from the George Washington University and a master's degree in International Peace and Conflict Resolution from American University.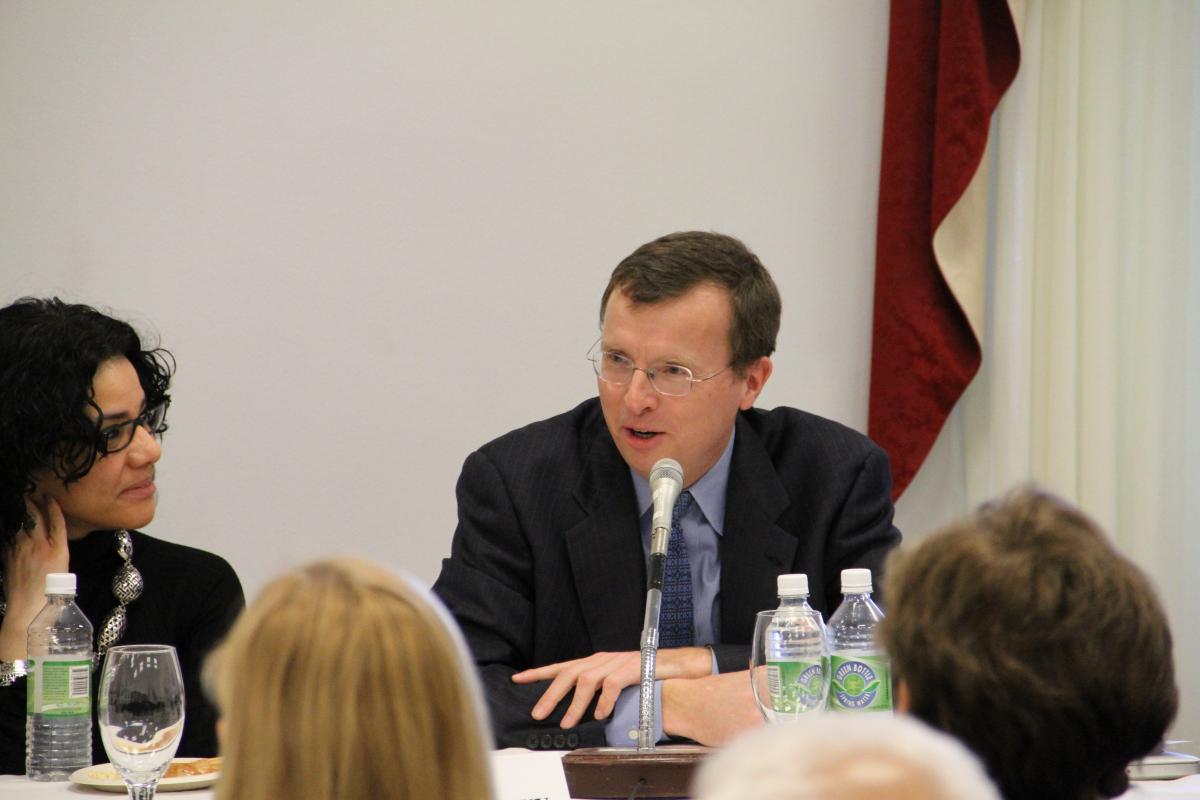 Michael Nelson is a visiting professor of internet studies in the Communication, Culture, and Technology Program at Georgetown University. Prior to joining the Georgetown faculty, Nelson was director of Internet technology and strategy at IBM, where he managed a team helping to define and implement IBM's next generation Internet strategy. Before joining IBM, Nelson was director for technology policy at the Federal Communications Commission, where he helped craft policies to foster electronic commerce, spur development and deployment of new technologies, and improve the reliability and security of the nation's telecommunications networks. Nelson also served as special assistant for information technology at the White House Office of Science and Technology Policy, where he worked with Vice President Gore and the President's science advisor on issues relating to the Global Information Infrastructure, including telecommunications policy, information technology, encryption, electronic commerce, and information policy.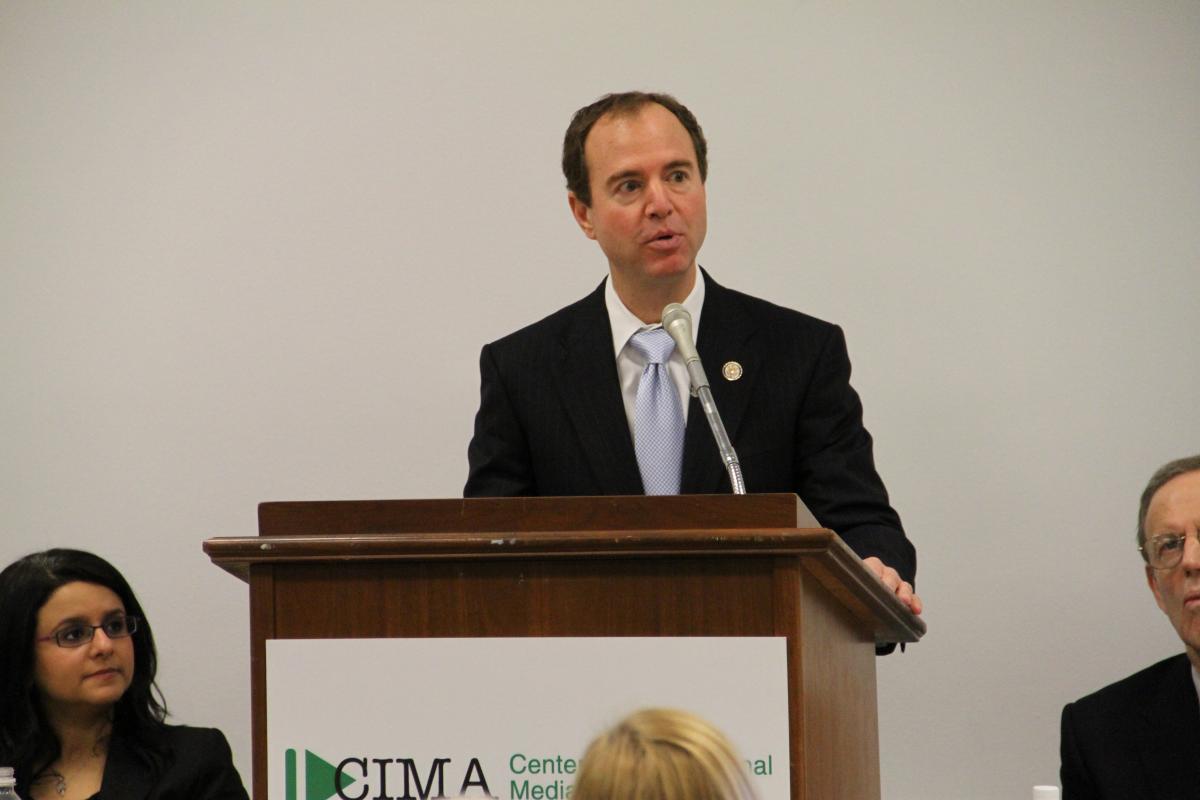 Congressman Adam Schiff represents California's 29th Congressional District and is a co-chair of the bipartisan, bicameral Congressional Caucus for the Freedom of the Press. He is a member of the Judiciary Committee, the Permanent Select Committee on Intelligence, and the Appropriations Committee, as well as the Subcommittee on State, Foreign Operations, and Related Programs. Representative Schiff was elected to Congress in 2000, having served in the California State Senate for four years and as an Assistant U.S. Attorney in the Los Angeles office for six years.
The Congressional Caucus for Freedom of the Press was organized in May 2006. The bipartisan, bicameral caucus is co-chaired by Representatives Adam Schiff (D-CA) and Michael Pence (R-IN), and Senator Richard Lugar (R-IN). It aims to advance press freedom by creating a forum to combat and condemn media censorship and the persecution of journalists worldwide.
Related reports:
Social Media in the Arab World: Leading up to the Uprisings of 2011