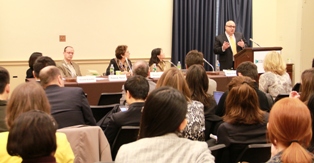 Authoritarian regimes are finding new and subtle ways to counter opposition voices and influence the public online. While traditional censorship of the Internet—through blocking or hacking into opposition Web sites and intimidating citizen journalists—remains an ongoing threat, digital media are also becoming a platform to disguise the voice of the government as the voice of the people. Tactics include providing free Internet service for state-run Web sites and charging for independent sites, or paying citizens to post pro-regime material to overwhelm and counter dissenting views online. These tactics could prove to be highly effective and hard to combat. For example, there are multiple ways to access blocked Web sites, but no clear means to distinguish government spin from independent postings. How can digital activists protect themselves against traditional censorship? How can government influence on the Internet be uncovered? What can civil society organizations, media specialists, and the international community do to adjust to the new threats?
The videos of this event are divided by speaker. To watch each video click on the link next to the speaker's name.
Honorary Co-Hosts
Senator Richard G. Lugar Congressman Adam Schiff
Senator Christopher Dodd Congressman Michael Pence
Congressional Caucus for the Freedom of the Press Co-Chairs
---
Featured Speakers
Shanthi Kalathil
Consultant, CommGAP
World Bank
Click Here to Watch Video of Remarks
Patrick Meier
Director of Research
DigiActive.org
Click Here to Watch Video of Remarks
Hugo Landa
Director
CubaNet News, Inc. (Cuba)
Click Here to Watch Video of Remarks
Li Xiaorong
Research Scholar
University of Maryland (China)
Click Here to Watch Video of Remarks
Following the above remarks, panelists took questions from the audience.
Click here to watch video of the Q&A session.
---
About Our Participants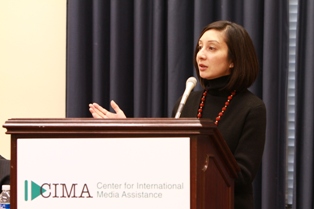 Shanthi Kalathil is a consultant to the Communication for Governance and Accountability Program (CommGAP) at the World Bank, where she is leading an initiative to produce a media development toolkit for donors and foundations. She was formerly a senior democracy fellow based in the Office of Democracy and Governance at the U.S. Agency for International Development, where she provided policy and programmatic advice on issues relating to civil society, media, and the Near East/Asia region. Prior to USAID, as an associate at the Carnegie Endowment for International Peace, she co-authored Open Networks, Closed Regimes: The Impact of the Internet on Authoritarian Rule, a widely cited, reviewed and translated volume on the political effect of the Internet. A former Hong Kong-based staff reporter for The Wall Street Journal Asia, Kalathil covered Hong Kong's transition to Chinese rule, the evolution of Chinese markets, and the 1997 Asian economic crisis.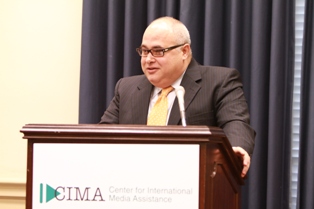 Hugo Landa came to the United States from Cuba in 1980 and has lived in Miami since 1987. He has been the director of CubaNet News, Inc. since 2007. Founded in 1994, CubaNet is a resource in which independent journalists in Cuba write about firsthand accounts of social issues they face on the ground, including problems with repression, food shortages, housing, unemployment and poorly equipped schools. As director, Landa is responsible for the overall direction of the project as well as maintaining constant contact with the independent journalists who write for the site. With a growing attempt to neutralize the blogosphere in Cuba, "independent" pro-government blogs coming from private citizens and official journalists have recently multiplied in Cuba, which has been troublesome for organizations that try to publish real independent voice such as CubaNet.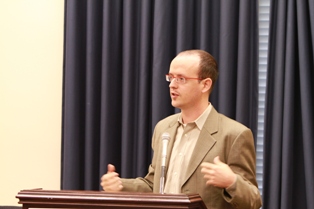 Patrick Meier is a PhD candidate at The Fletcher School of Law and Diplomacy and director of research at DigiActive.org. His doctoral research critically analyzes the role of new media and technology in popular resistance against repressive rule. Repressive regimes are becoming increasingly more sophisticated in their ability to control, monitor and censor information. At the same time, however, pro-democracy movements are increasingly reverting to new media and digital technologies to circumvent repression. The question Patrick asks is: Do these technologies empower repressive regimes at the expense of popular movements or vice versa? Patrick is on the Board of Digital Democracy, a leading digital activism initiative. He also serves as director of Crisis Mapping and Strategic Partnerships at Ushahidi, and he co-founded the International Network of Crisis Mappers.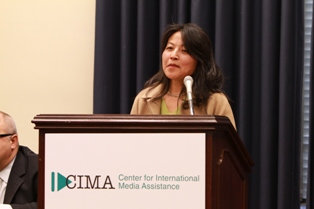 Li Xiaorong has been a research scholar at the Institute for Philosophy and Public Policy at the University of Maryland since 1993, where she specializes in political/moral philosophy and ethics, with a focus on human rights, cultural diversity/pluralism, civil society and ethics of globalization. She has taught the graduate seminar on philosophy, politics and public policy at the university. She has published materials on several subjects including human rights and cultural relativism, international justice, development, and more recently, the impact of information on civil society. She is the author of Ethics, Human Rights and Culture and many academic articles. Her research projects have won support from the National Endowment for Humanities, the MacArthur Foundation, the U.S. Institute of Peace, and the Institute for Advanced Studies at Princeton.
***
The Center for International Media Assistance, an initiative of the National Endowment for Democracy, brings together a broad range of media experts with the goal of strengthening the support for and improving the effectiveness of media assistance programs by providing information, building networks, and conducting research on the indispensable role independent media play in creating sustainable democracies around the world.
The Congressional Caucus for Freedom of the Press was organized in May 2006. The bipartisan, bicameral caucus is co-chaired by Representatives Adam Schiff (D-CA) and Michael Pence (R-IN), and Senators Christopher Dodd (D-CT) and Richard Lugar (R-IN). It aims to advance press freedom around the world by creating a forum to combat and condemn media censorship and the persecution of journalists around the world.