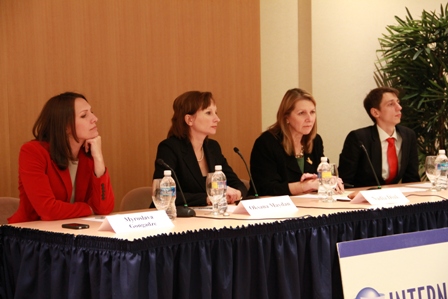 On October 22, CIMA and Internews Network hosted a panel discussion entitled Press Freedom in Ukraine: Incredible Shrinking Media Space? The event featured Voice of America's Myroslava Gongadze, Oksana Maydan of Internews Network in Ukraine, and Denis Gursky, with the Television Industry Committee. NED's Nadia Diuk moderated the event.
In 2004, the Orange Revolution signaled the rise of a powerful civic movement against a corrupt, Kremlin-backed system. There was great hope among democracy advocates, human rights leaders and civil society activists about the future of Ukraine. The short presidency of Viktor Yanukovych, however, has overseen a quick reversal of hard-won political freedoms. Recent reports by Freedom House and Radio Free Europe/Radio Liberty warn of a disturbing increase in political pressure, censorship, and attacks on journalists. Last week, Reporters Without Borders downgraded Ukraine 42 spots in its annual press freedom index to 131st place, worse than Zimbabwe and Egypt, and alongside countries such as Algeria and Cameroon. Several dissenting television stations have had their licenses revoked, and with the recent disappearance and suspected murder of newspaper editor Vasyl Klymentyev, a well-known critic of the authorities, media and human rights monitors are warning of significant rollbacks in press freedom. Do these events signal a wider, systematic crackdown against the media? And what do these trends mean for the direction of press freedom in Ukraine?
The panel examined these questions and discussed growing international unease over the direction of democracy in Ukraine. Myroslava Gongadze argued that these latest events should be taken seriously and could signal a concentrated effort against press freedom in Ukraine if unaddressed by democracy activists. She explained how journalists and media workers can fight pressure from commercial and political interests, as well as legal challenges, and presented policy recommendations to international observers. Oksana Maydan summarized the media landscape since the Orange Revolution, with its subsequent freedom from government censorship but not from commercial censorship or pressure by political parties (also known as "jeansa"). Finally, Denis Gursky addressed some of the most recent events during Yanukovych's term and where he sees an opportunity for further government control through licensing and digital issues. The audience engaged in a long question and answer period, examining issues from the public's trust in media to the government's possible future steps.
---
---
 Featuring: 
Myroslava Gongadze
Voice of America
Oksana Maydan
Internews Network
Denis Gursky
Television Industry Committee
Moderated by:
Nadia Diuk
National Endowment for Democracy
---
About the participants:
Myroslava Gongadze is a journalist and television anchor for the Voice of America's Ukrainian service. She has won numerous awards for her accomplishments as a journalist, including her reporting on the eve of the 2004 Orange Revolution, and as a champion of democracy and independent media. The widow of slain investigative reporter Heorhiy Gongadze, she fled Ukraine in 2001, and has labored tirelessly to bring her husband's case to justice. She won a landmark negligence ruling against the Ukrainian government from the European Court of Human Rights in November 2005.
Oksana Maydan is the Deputy Chief of Party for Internews Network in Ukraine. Prior to joining Internews, Maydan served as project manager at the Foundation for Effective Governance (FEG) where she helped produce a series of high-level public debates on economic and business development in Ukraine. There, she was also in charge of the Foundation's communication policies and worked closely with FEG's international advisory board. Between 2004 and 2008, she managed the USAID-funded Ukraine Reform Education Program, coordinating a nation-wide public awareness campaign in ten priority economic and social sectors. Maydan also managed the Advising Center at the American Councils for International Education (ACCELS) from 2003-2004, and headed the International Research and Exchanges Board (IREX) office in Ukraine from 1999-2003. She earned her doctorate in Ukrainian philology at the National Academy of Sciences of Ukraine in 1996.
Denis Gursky is a new media and digital technology expert. As the digital committee coordinator for the Television Industry Committee (TIC)—the leading broadcast industry association in Ukraine—Gursky heads digital switchover and lobbying projects that link the television industry, government, and international institutions. Prior to that, he was involved in public relations, entertainment, and sound production, and headed the press department for Eurovision in 2008. His new media background started in 2006, when he helped organize the first Ukrainian blogcamp. Since then, he has conducted trainings and spoken at conferences across Europe on new media technology. Gursky also consults for Ukrainian media companies and media development non-governmental organizations, and is a founder of a new media expert council called "Media Marketing Mom." Gursky has a master's degree in International Economics from the Kyiv National Economic University.
Nadia Diuk serves as vice president of programs for Europe and Eurasia, Africa, Latin America and the Caribbean at the National Endowment for Democracy (NED). For over twenty years prior to her appointment as vice president, she supervised NED programs and strategies in what was then known as Eastern Europe and the Soviet Union, and, later, as Eurasia. Prior to her appointment at the NED she taught Soviet Politics and Russian History at Oxford University; was a research associate at the Society for Central Asian Studies in England; and editor-in-chief of the London-based Soviet Nationality Survey. Diuk is a member of the Council on Foreign Relations. She earned her master's degree in Russian and East European Studies and her doctorate in Modern History from St. Antony's College at the University of Oxford.