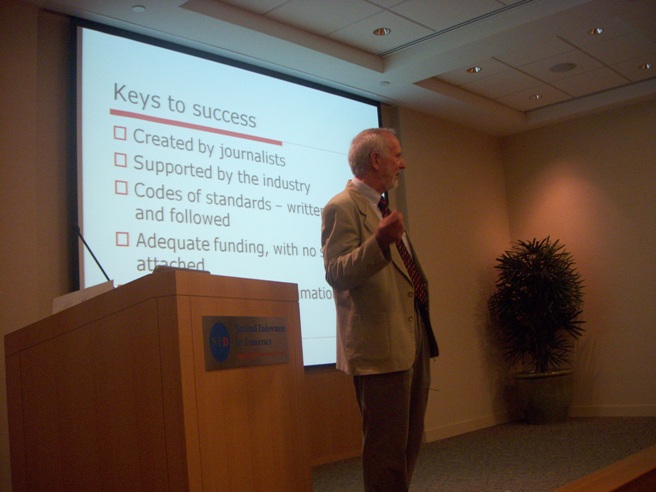 The public critique of media through press councils and ombudsmen is a fundamental way for the public to criticize and challenge print and broadcast news coverage. A major question remains, however, as to whether these institutions are effective in raising journalistic standards, or if they too easily can become tools for governments to manipulate the news media, especially where democracies are fragile. Sword and Shielf: Self-Regulation and International Media, a CIMA report by Bill Ristow, examines these issues. What are the differences in approach, scope, effectiveness, and independence of these institutions? What are examples of successful press councils or ombudsmen internationally and what can we learn from them? What are major obstacles to their effectiveness? How can media development implementers in the field help news outlets overcome these obstacles?
Click Here to Download an Audio Recording of the Discussion
---
Featuring
Bill Ristow
Author, Sword and Shield, CIMA Consultant
Click Here to View Ristow's PowerPoint Presentation
With Comments by
Alicia Shepard
Ombudsman, National Public Radio
Mark Whitehouse
Director of Media Development Programs, IREX
Moderated by
Don Podesta
Center for International Media Assistance
About the Author
Bill Ristow is a journalist and international journalism trainer based in Seattle, Washington. After beginning his career as an editor with weekly newspapers in San Francisco and rural Washington State, he worked at The Seattle Times for nearly 23 years. He held senior newsroom positions including metro editor and features editor; was the editor for the newspaper's first Web site; and was one of the principal management trainers for the company. Ristow was a Knight International Journalism Fellow in Uganda for nine months in 2007, training professional journalists at newspapers in Kampala and four towns. He returned to East Africa as a trainer and consultant in 2008 with his wife, Theresa Morrow, working with four newspapers in Uganda and Kenya, and again in 2009, teaching graduate students of journalism at Addis Ababa University, Ethiopia.
About the Panelists
Alicia Shepard is the National Public Radio ombudsman. Shepard joined NPR in October 2007 for a two-year appointment as ombudsman. She serves as the public's representative and is responsible for bringing transparency to the journalism decision-making processes. She responds to queries and comments from listeners, writes a blog, appears on NPR programs to discuss listener concerns, and provides guidance on journalism practices to NPR member stations. She sees her job as explaining NPR to listeners, and listeners to NPR. Before coming to NPR, Shepard spent four years teaching journalism and contributing to The New York Times, Washingtonian magazine, Chicago Tribune, Los Angeles Times, The Newark Star Ledger and The Washington Post while working on a book, Woodward & Bernstein: Life in the Shadow of Watergate. She is the co-author of Running Toward Danger: Stories Behind the Breaking News of 9/11, about how journalists covered the tragedy and the public roles they played.
Mark Whitehouse is the director of Media Development Programs at the International Research and Exchanges Board (IREX). He has more than 15 years of experience in democratic and media development programming. As the Director of IREX's Media Development Division since 2001, he has developed and overseen media projects in Africa, Asia, Europe, and Eurasia. Prior to joining IREX, Mr. Whitehouse worked for the director of the Carter Center's Commission on Radio and Television Policy; served as administrator of USSR Programs at ACTR/ACCELS; and was a development associate at USAID. He has conducted research on ethnic politics at the Russian Academy of Sciences' Institute of Ethnography in Moscow. He currently serves on the boards of directors of IREX Europe and the Broadcast Training Center (Bulgaria).  Mr. Whitehouse received an MA in Political Science from Emory University, an MA in Russian and East European Studies and a BA in Government from Georgetown University at Washington, DC.