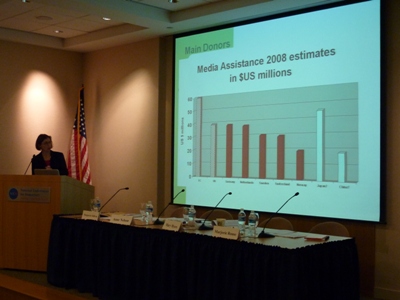 As both U.S. journalism and private foundations have entered a period of crisis, new avenues and approaches are being explored for the media development business model. Traditional foundations–especially those rooted in U.S. journalism companies–are cutting back on international funding, and new foundations from the digital media technology sector are making a major impact. A recently published CIMA report by Anne Nelson, called Experimentation and Evolution in Private U.S. Funding of Media Development, covers both traditional and new U.S. private funding mechanisms. A forthcoming CIMA report by Mary Myers focuses on funding for media development by major non-U.S. donors. From an international perspective, the global economic downturn has not yet had a significant effect on media development funding world-wide. A look across the international donors surveyed in the report shows that budgetary commitment to media support has either risen slightly or remained the same over the last three to five years.
How is U.S. private and non-U.S. funding being spent? Is it for training, capacity-building, infrastructure, legal reform, physical safety, online media, or other projects? What are the trends in terms of donor priorities and approaches? What can media development organizations expect from U.S. private foundations and non-U.S. donors in the future?
---
Featuring
Anne Nelson
Author, Experimentation and Evolution in Private U.S. Funding of Media Development
Mary Myers
Author, Funding for Media Development by Major Donors Outside the United States
With Comments by
Marjorie Rouse
Internews Network
Moderated by
Marguerite Sullivan
Center for International Media Assistance
---
About the Authors:
Anne Nelson is an international media consultant who has worked with a number of major foundations in recent years. She created and teaches a course called "New Media and Development Communications" at Columbia University's School of International and Public Affairs. In recent years she has worked with the Gates Foundation, the Knight Foundation, the Open Society Institute and the Rockefeller Foundation, contributing landscape analyses and conducting evaluations of media-related programs. The Carnegie Corporation of New York published her article "Arab Media: the Web 2.0 Revolution." She is a former journalist and served as the director of the Committee to Protect Journalists, where she helped to found the International Freedom of Expression Exchange. She received a Guggenheim Fellowship for her research on her recent book, Red Orchestra, which describes practices of mass media propaganda and resistance samizdat in Nazi Germany. Nelson is also a member of the Council on Foreign Relations.
Mary Myers is a freelance consultant, based in the United Kingdom. Her specialties are media in Africa, radio serving the poor, monitoring and evaluation, and gender issues. From 1996-2002 she worked on a number of consultancies, including clients such as Department for International Development (DFID), Centers for Disease Control and Prevention, and Intermediate Technology. From 2002-2003, she was an adviser to DFID on media and international communication technologies within the Social Development Division, where she gave advice and worked on project management, research, and field appraisals on all aspects of DFID's programs, particularly in Africa. Currently she is part-time media adviser to France Coopération Internationale in the Democratic Republic of Congo. She still often works for DFID and has also recently worked with other clients such as the World Bank, Media Support Solutions, International Development Research Center, Search for Common Ground, Farm Radio International and others.
About the Panelist
Marjorie Rouse is the new vice president for program development at Internews Network, and previously spent three years as vice president for Europe and Eurasia programs. Prior to these positions, Rouse headed Global Initiatives for Internews Network and was regional director for the western Newly Independent States, based in Ukraine. Rouse has worked in the Europe and Eurasia region for the past 20 years in both media development and as a journalist. She was based in Moscow from 1988 to 1995 as a network news producer for NBC News and was awarded an Olive Branch award for her investigative reports on loose nuclear weapons in the former Soviet Union and an Overseas Press Club Award for her coverage of the 1993 October uprising in Moscow.