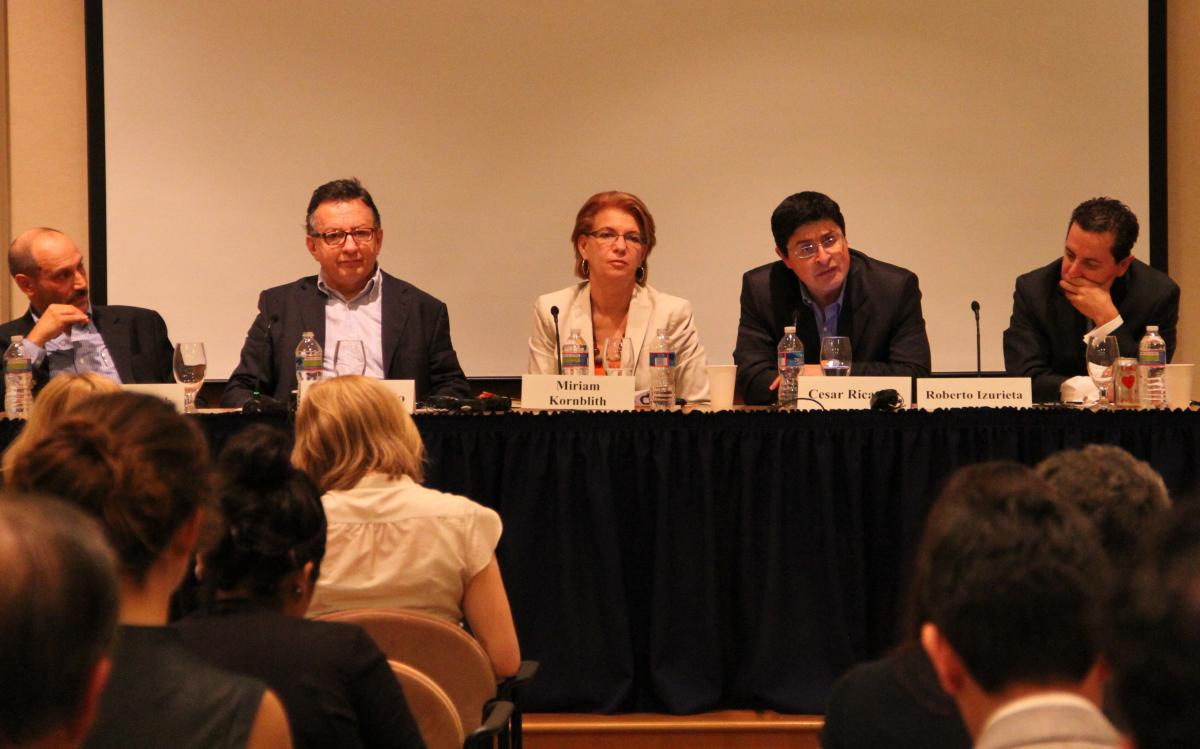 On June 28, over 45 people attended the panel discussion "Under Stress: Threats to Press Freedom in Ecuador," which was hosted by CIMA and NED's Latin America and Caribbean (LAC) program and focused on the state's increasing restrictions on the press. Since President Rafael Correa took office in early 2007, he has repeatedly taken steps to undermine press freedom. His most recent initiative was the May successful referendum in May, that forbid media company ownership of non-media companies and create a regulatory council with broad powers. According to Freedom House's Freedom of the Press Index, Ecuador has experienced significant decline in press freedoms over the past five years, reflecting an increasingly polarized media environment and Correa rhetoric against the media.
As the recent CIMA report, Confronting the News: The State of Independent Media in Latin America, notes, pressures on the media have involved raids and shutdowns of broadcast outlets, government advertising boycotts, and attempts to influence the news agenda through the establishment of state-owned or controlled outlets. Criminal defamation suits have also increased. Most recently, Correa filed a personal suit against El Universo, seeking $80 million in damages and up to three years in prison for the newspaper's three executives and a columnist, over allegations of "defamatory libel." This increasingly threatening and restrictive context raises serious concerns and questions about freedom of expression in the country and about the ability of journalists and media owners to carry out their activity. The event explored the following questions: Will this lead to increasing self-censorship among journalists and media owners? Is the Ecuadorian case worse than similar cases in other Andean countries? What is the role of the international community in preventing further deterioration of freedom of expression and of the press in Ecuador?
---
---
Featuring:
Emilio Palacio
El Universo
Cesar Ricaurte
Fundamedios
Roberto Izurieta
George Washington University
Douglas Farah
Author, CIMA report,
Confronting the News: The State of Independent Media in Latin America
Moderated by:
Miriam Kornblith
National Endowment for Democracy
---
About the panelists:
Douglas Farah is a senior fellow at the International Assessment and Strategy Center and an adjunct fellow in the Americas Program at the Center for Strategic and International Studies. He is the author of the forthcoming CIMA report, Confronting the News: The State of Independent Media in Latin America and Winds From the East: How the People's Republic of China Seeks to Influence the Media in Africa, Latin America, and Southeast Asia. Previously, he served as a foreign correspondent and investigative reporter for the Washington Post for two decades, covering Latin America and West Africa. He has also written for the Boston Globe and US News & World Report, among other publications. Farah was awarded the Sigma Delta Chi Distinguished Service Award for Foreign Correspondence in 1988 for a Washington Post series on right-wing death squads in El Salvador. He also received Columbia University's Maria Moors Cabot Prize in 1995 for outstanding coverage of Latin America. Farah is the author of Blood from Stones: The Secret Financial Network of Terror (2004) and Merchant of Death: Money, Guns, Planes and the Man Who Makes War Possible (2007). He holds bachelor's degrees in Latin American Studies and in Journalism from the University of Kansas.
Roberto Izurieta is the director of Latin American Projects for the Graduate School of Political Management (GSPM) at George Washington University in Washington, DC. He has a master's degree in political science with a double major in speech communication from Southern Illinois University and another master's degree in political management from the GSPM at George Washington University. He is a fellow with the Academic and Professional Programs for the Americas, affiliated with Harvard University, and was the first Latin to be named a "Rising Star" by Campaign & Election magazine. Izurieta has worked on several political campaigns in Spain and across Latin America, including México, Ecuador, Peru, Guatemala, and the Dominican Republic. From 1998-2000, he was the communication director for the President of Ecuador. He was also the advisor of President Alejandro Toledo of Peru, President Vicente Fox of Mexico and President Alvaro Colom of Guatemala. He is a political consultant for CNN en Spanish.
Emilio Palacio Urrutia studied Economics at the University of Guayquil, but left his studies early in order to pursue a career in journalism. He began working at the newspaper, Expreso de Guayaquil, in 1973. From 1982 to 1990, he was an investigator and the assistant editor of the magazine, Analisis Semanal de Guayaquil, the most well-known publication covering Ecuador's economy. Throughout his career, he has worked with various print news outlets in Peru, Colombia, Argentina, Spain, and Mexico. In 1997, he began to work with the daily newspaper, El Universo, as an investigative journalist and a member of the editorial staff. Since 2000, Palacio has been the opinion editor of El Universo, for which he writes one of the most widely read columns in Ecuador.
Cesar Ricaurte is the founder and executive director of Fundamedios, the only organization that tracks attacks against journalists and media and that defends the freedom of speech and free press in Ecuador. He writes several weekly columns for Diario Hoy, and has been a reporter, an editor and a writer for media throughout Ecuador, including El Comercio, Glance, World Diners, Vision Radio Quito, and El Universo, among others. Active in broadcast as well, Ricaurte produces and hosts a segment called "Media Observatory" on 106.9 FM, and he developed the first audience defense board at the Ecuadorian TV station Ecuavisa. He is the coauthor of The Broken Word and editor of Media, Country and Assembly: The Debate and Actors, Accomplices and Accessories: TV and the Assembly, which are both Fundamedios publications. He holds a degree in journalism from the Central University and Andean University Simon Bolivar.