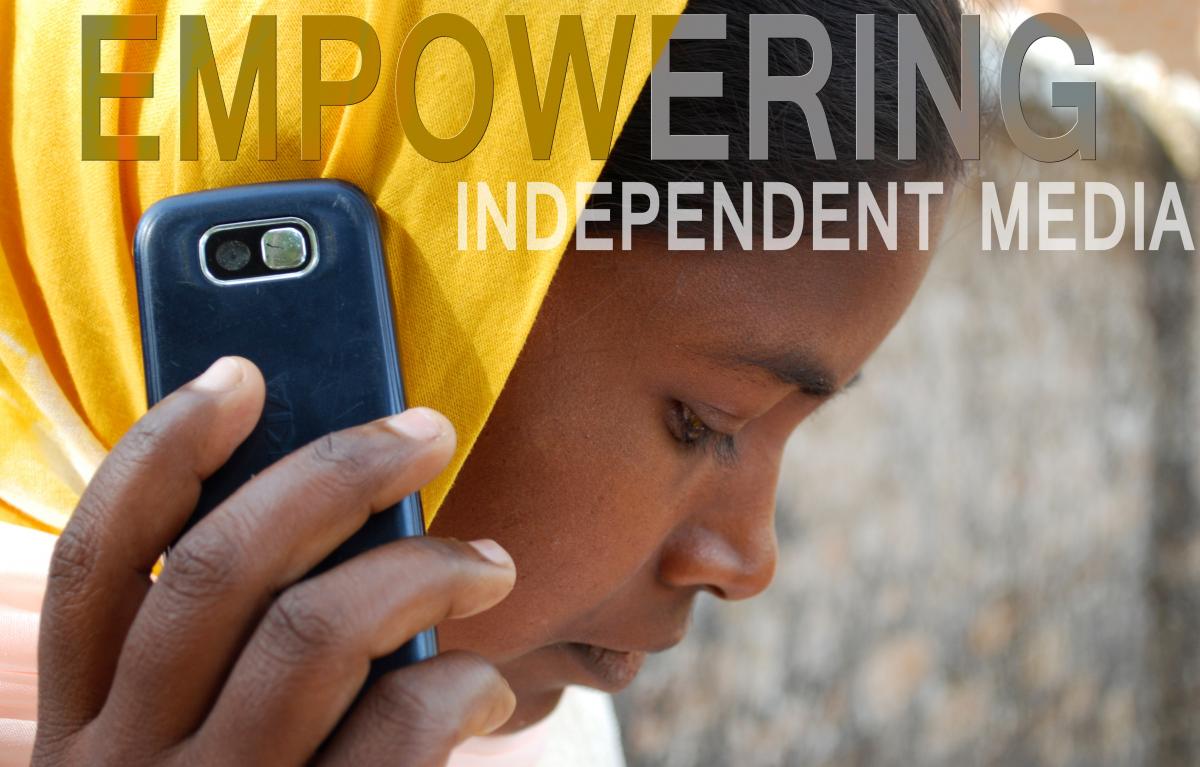 ---
Over 115 people attended CIMA's celebration of its fifth anniversary, World Press Freedom Day, and the launch of the second edition of its report, Empowering Independent Media: U.S. Efforts to Foster a Free Press and an Open Internet Around the World.
See Dave Kaplan's PowerPoint presentation on Empowering Independent Media. >>
---
---
Featuring:
David E. Kaplan
Editor, Empowering Independent Media:
U.S. Efforts to Foster a Free Press
and an Open Internet Around the World
Thomas O. Melia
U.S. Department of State
Sarah E. Mendelson
U.S. Agency for International Development
Barbara Haig
National Endowment for Democracy
Marius Dragomir
Open Society Foundations
David Sasaki
Omidyar Network
Moderated by:
Marguerite Sullivan
Center for International Media Assistance
May 1, 2012
4:00-7:00 p.m.
---
U.S. efforts to bolster independent media and an open Internet overseas are having significant impact, but face a lack of funding, growth in online censorship and surveillance, and rising attacks on journalists, according to CIMA's new report. The 150-page report, Empowering Independent Media, provides a comprehensive survey of U.S. initiatives by public and private donors, nonprofit organizations, universities, and others that focus on media as a means to encourage democratization and economic development.
Among the report's findings: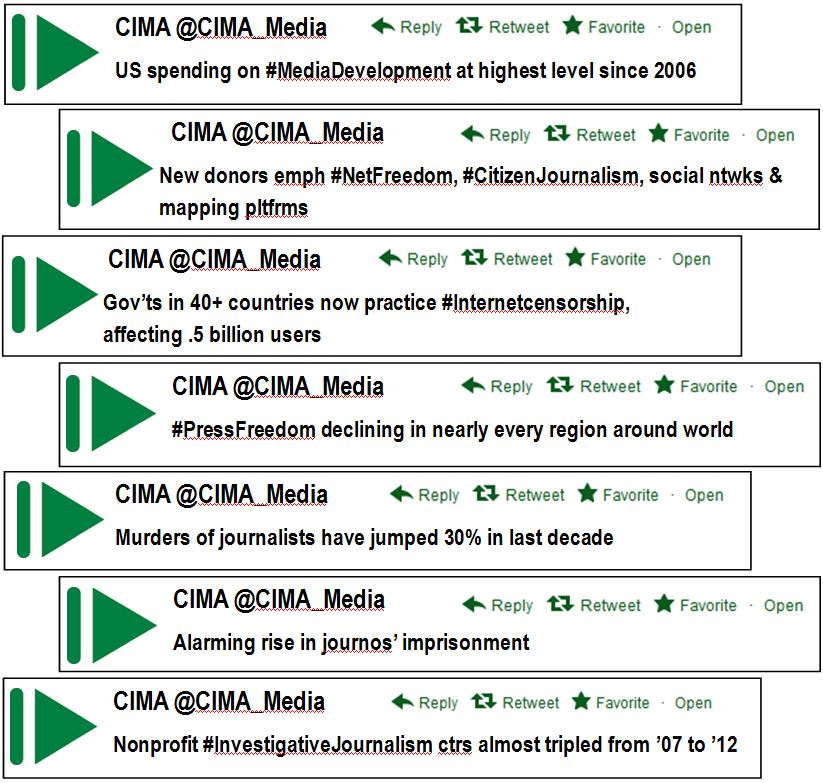 Drawing on original research as well as CIMA's past reports, Empowering Independent Media examines seven core areas of media development-funding, digital media, sustainability, media law, safety, education, and monitoring and evaluation. It makes recommendations to strengthen independent media around the world, including: expand funding; increase coordination; build citizen journalist capacity; embed digital media and project evaluation into all programs; and put greater emphasis on business skills, legal issues, community radio, and investigative journalism.
---
About the speakers:
David E. Kaplan is an investigative journalist and media consultant in Washington, DC. He is a partner in Investigative Journalism Consultants and editor-at-large for the Organized Crime and Corruption Reporting Project. From 2008 to 2011, Kaplan served as director of the International Consortium of Investigative Journalists, an award-winning network of 100 reporters in 50 countries. Previously, he worked as chief investigative correspondent for U.S. News & World Report, where his stories included exposés of racketeering by North Korean diplomats, Saudi funding of terrorist organizations, and the looting of Russia. Kaplan is co-author of the book YAKUZA, widely considered the standard reference on the Japanese mafia, and author of the critically acclaimed Fires of the Dragon, on the life and murder of Chinese journalist Henry Liu. Kaplan has reported from two dozen countries, and his stories have won or shared more than 20 awards, including honors from Investigative Reporters and Editors and the Overseas Press Club. He has worked in media development for 20 years and trained more than a thousand reporters worldwide in his workshops on investigative journalism. His past clients include Arab Reporters for Investigative Journalism, the International Center for Journalists, IREX, and the World Bank. He is author of CIMA's report Global Investigative Journalism: Strategies for Support, managing editor of Empowering Independent Media: U.S. Efforts to Foster Free and Independent News Around the World, and editor and principal writer of Empowering's forthcoming second edition, published by the Center for International Media Assistance at the National Endowment for Democracy.
Thomas O. Melia is the deputy assistant secretary for the U.S. Department of State's Bureau of Democracy, Human Rights, and Labor. With more than 25 years of experience in the promotion of democracy and human rights, his portfolio includes the Office of European Affairs, including Russia, the Office of Southern and Central Asian Affairs, and the Office of International Labor, Business and Human Rights. Before his appointment, Melia was the deputy executive director of Freedom House from 2005-2010. For more than 12 years, he held senior posts at the National Democratic Institute, including serving as vice president for programs, managing programs in Central and Eastern Europe and the Middle East, and directing programs in more than a dozen African countries. From 1986 to 1988, he was the associate director of the Free Trade Union Institute at the AFL-CIO. Prior to that, he worked on Capitol Hill as a legislative assistant to Senator Daniel Patrick Moynihan. Melia has taught democracy and human rights courses at Georgetown University and Johns Hopkins School of Advanced International studies for more than 10 years. He has also published a number of widely read articles democracy and human rights issues.
Sarah E. Mendelson is the deputy assistant administrator in USAID's Bureau for Democracy, Conflict and Humanitarian Assistance responsible for democracy, human rights, and governance. She has worked for nearly two decades on a wide variety of issues related to human rights and democracy, including as the director of the Human Rights and Security Initiative at the Center for Strategic and International Studies (CSIS). Prior to her time there, Mendelson was a professor of international politics at the Fletcher School of Law and Diplomacy at Tufts University and also served in Moscow as a program officer for the National Democratic Institute. Mendelson earned her bachelor's degree in history from Yale University and her doctorate in political science from Columbia University. She has held fellowships at Stanford University and Princeton University. She served on the editorial board of International Security and was a member of the advisory committee for the Europe and Central Asia Division of Human Rights Watch, and a member of the Council on Foreign Relations.
Barbara Haig is the deputy to the president for policy and strategy at the National Endowment for Democracy, which she joined in 1985. As vice president for program planning and evaluation, she led the dramatic growth of NED's grants program, including the programmatic development, monitoring and evaluation of its worldwide grant making efforts. In the last decade, she oversaw a vast expansion of NED's program in the broader Middle East, especially Iraq and Afghanistan. During the late 1980s and early 1990s, Haig oversaw the development and implementation of several large and complex democracy programs in South Africa, Nicaragua, and Central and Eastern Europe. She is a widely recognized expert in the field of democracy promotion and has a deep understanding of NED's historical aspects and strengths. From 1981 to 1985, Haig was special assistant to the associate director of programs, and then to the director, of the United States Information Agency. She is a graduate of Georgetown University and has studied and worked in Latin America, Europe, Asia, and Africa.
Marius Dragomir is the senior manager and publications editor for the Open Society Foundations' Media Program. In his current position, he is in charge of the media research and policy portfolio of the Media Program, and is the manager and main editor of the Mapping Digital Media research that canvasses 60 countries worldwide. He worked for 17 years as a journalist, including for eight years with various Romanian media outlets. In 2002, Dragomir was a senior journalism Knight fellow at the Washington, D.C.-based Atlantic Council of the United States, where he completed a thesis on the reform of the media in post-communist Europe. He was a media columnist in publications such as Czech Business Weekly and wrote for several other publications, including as a media critic with the Prague Business Journal, and conducted field training for Transitions Online.
David Sasaki is a principal of investments at Omidyar Network, where his portfolio includes government transparency in Latin America, focusing on Brazil and Mexico. He makes investments in for-profit and nonprofit organizations that enable civic participation and promote greater transparency and accountability in government. Sasaki joined Omidyar Network in 2011 after advising Open Society Foundations on investment opportunities and emerging technology-related policy issues in Latin America. Previously, he directed research at the Technology for Transparency Network. He was also the founding director of Rising Voices, an initiative of Global Voices, which promotes the use of citizen media and Internet technologies in under-represented communities worldwide. Sasaki earned a bachelor's degree in political science, with concentrations in Latin American and third world studies, from the University of California, San Diego. He frequently speaks and writes about issues related to technology, innovation, governance, and journalism.
---