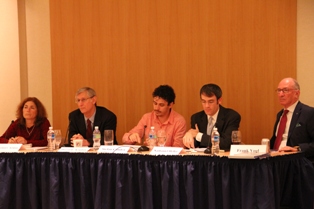 On September 29, CIMA hosted a panel discussion on its new report, Covering Corruption: The Difficulties of Trying to Make a Difference, which examines the impact of reporting about the topic on the incidence of corruption, asking whether and how media have an effect in bringing about reform and better governance.
The report's author, Rosemary Armao, summarized the primary challenges media workers face in reporting on corruption, including low salaries, inadequate training, lack of office resources, limited access to public records, an apathetic or jaded public, and attacks/jailing.
In a perfect world, she noted, covering corruption would occur in an environment with a somewhat-transparent government and active citizens who possess the mechanisms to hold their leaders accountable. So, how do journalists have an impact in the absence of these conditions? Armao argued that reporters need to find the "right story," that is sex, food, or sports, among other topics; use technology in meaningful ways for the right audience; and build networks to share resources, cross- train, and support each other.
Finally, for media development stakeholders, she highlighted the importance of training – teaching the basics, training for a long time, learning in the field and not just in the classroom, and understanding budgets, cross-cultural investigation, and forensic accounting.
Dave Kaplan of the International Consortium of Investigative Journalists with the Center for Public Integrity moderated the discussion that followed.
Stefan Candea of the Romanian Center for Investigative Journalism and a Nieman fellow, echoed Armao's statements on the importance of training and added that it is essential for local journalists to build a strong brand of independent investigative journalism in order to combat media outlets owned by corrupt officials or groups. Cross-border cooperation and stories that highlight local and regional issues on corruption is another effective way to work around commercial or state censorship, he said.
Global Integrity's Nathaniel Heller highlighted the need for systematic, core support for media institutions, including financial assistance and capacity-building. Heller also noted the importance of bringing to readers' attention the complex, institutional issues behind the corrupt acts to tap into their sense of outrage.
Frank Vogl of Transparency International and the Partnership for Transparency Fund, encouraged journalists to highlight the human impact and misery caused by corruption, noting that the cumulative impact of corruption can have a formidable effect. Stakeholders, he added, must understand that holistic support to advance rule of law, a vibrant civil society, and strong electoral mechanisms is crucial.
Finally, all speakers agreed on the importance of training that includes journalists, editors, and publishers.
---
---
Featuring:
Rosemary Armao
Author, Covering Corruption: The Difficulties of Trying to Make a Difference
Click here to download a copy of Rosemary's PowerPoint presentation.
With comments by:
Stefan Candea
Romanian Center for Investigative Journalism
Nathaniel Heller
Global Integrity
Frank Vogl
Transparency International
Partnership for Transparency Fund
Moderated by:
David E. Kaplan
International Consortium of Investigative Journalists
Center for Public Integrity
---
About the author:
Rosemary Armao is an assistant professor of journalism/communication at the State University of New York at Albany. She is also an advisor and member of the board of directors of the Center for Investigative Reporting in Bosnia-Herzegovina and a consultant for the Organized Crime and Corruption Project based in Romania. In a career of nearly 40 years, Armao has written and edited at a number of U.S. newspapers, taught at several universities, and worked on reporting and media development projects in Africa, Asia, and Eastern Europe. She is a former executive director and member of the board of directors of Investigative Reporters and Editors and a former Knight International Press Fellow. Armao served as a bureau chief for the Baltimore Sun, managing editor of the Sarasota Herald Tribune, and state and investigative editor of the Fort Lauderdale Sun Sentinel. She holds degrees from Syracuse University and Ohio State University.
About the participants:
Stefan Candea is the co-founder of the Romanian Center for Investigative Journalism and is currently a Carroll Binder Nieman Fellow at Harvard. He has worked for several print publications and radio and television stations in Romania, including the first investigative TV show in Romania, Reporteri Incognito. Candea has covered the connections between international organized crime networks and high-ranking politicians and public servants, the international arms trade, illegal international adoptions and the diamond business in Romania. He also does freelance research and production work for several foreign media outlets, including BBC and Canal Plus. Since March 2001, he has been a correspondent for Reporters sans Frontieres in Romania. He also teaches investigative journalism at Bucharest, Iasi, and Timisoara universities.
Nathaniel Heller is the managing director at Global Integrity, which he has led since 2005. From 2002 – 2005, Heller worked at the U.S. Department of State, focusing on European security and transatlantic relations. He was integrally involved with the planning process to modernize U.S. basing arrangements in Europe, the largest shift in the U.S. military presence there since the end of the Cold War, for which he received the State Department's Superior Honor Award. In 2004, he served as a foreign policy fellow to the late Senator Edward Kennedy. As a senior associate and James R. Soles Fellow at the Center for Public Integrity from 1999-2002, Nathaniel Heller, along with Chuck Lewis and Marianne Camerer, developed the Integrity Indicators and conceptual model for what is now Global Integrity. Heller is a magna cum laude, Phi Beta Kappa graduate of the University of Delaware and earned his master's degree at Georgetown University's School of Foreign Service.
David E. Kaplan is director of the International Consortium of Investigative Journalists, a global network of 100 journalists in 50 countries, based at the Center for Public Integrity in Washington, D.C. Over a 30-year career, he has investigated organized crime, terrorist groups, corporate polluters, corrupt law enforcement officials, neo-Nazis, the banking industry, and the intelligence community. Kaplan worked previously as chief investigative correspondent for U.S. News & World Report and as one of two senior editors at the San Francisco-based Center for Investigative Reporting. In 2007, he wrote Global Investigative Journalism: Strategies for Support, a CIMA report on investigative reporting overseas. He has reported from two dozen countries and is a former Fulbright scholar in Japan. Among his books are YAKUZA, widely considered the standard reference on the Japanese mafia; and Fires of the Dragon, on the murder of journalist Henry Liu. Kaplan's stories have won or shared more than 15 awards, including honors from Investigative Reporters and Editors, the American Bar Association, Overseas Press Club, and World Affairs Council.
Frank Vogl is advisor to the managing director of Transparency International (TI) and a member of TI's International Advisory Council. Vogl co-founded TI in 1993 and served on its Board of Directors for 12 years, with 9 years as vice chairman. He is also the co-founder of the Partnership for Transparency Fund and serves as its vice chairman. Vogl has written and lectured extensively on international corruption. He is the editor and publisher of www.ethicsworld.org and president of Vogl Communications, Inc. In addition, he serves as a member of the International Council of the New Israel Fund and on the Advisory Council of the United Nations Association of the Greater Washington Area. Vogl is a former World Bank director of information & public affairs. He spent 15 years as an economics journalist, including for Reuters and The Times (London).