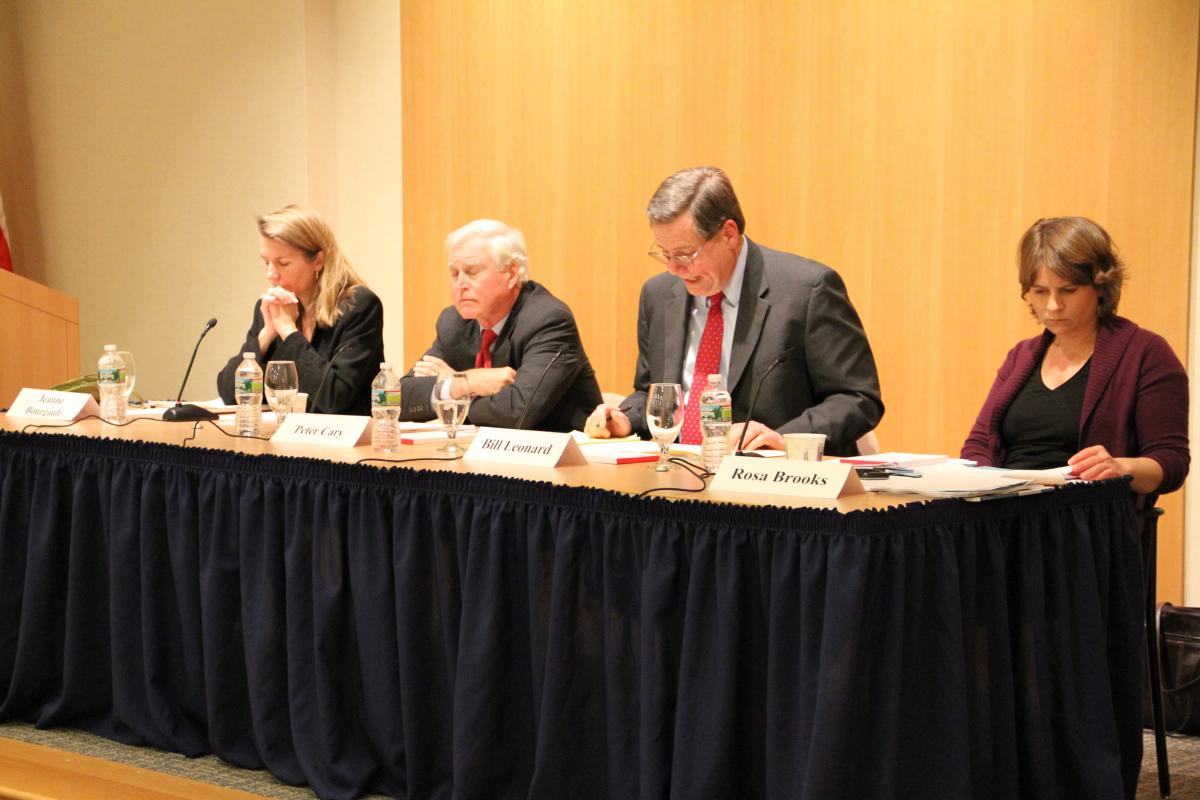 On December 2, CIMA hosted a panel discussion on its recent report, The Pentagon, Information Operations, and International Media Development. The event featured the report's author, Peter Cary, as well as Rosa Brooks from the U.S. Department of Defense and Internews Networks' Jeanne Bourgault, who served as responders. NED's Bill Leonard moderated the event.
As part of its post-9/11 strategy, the Department of Defense (DoD) has launched a multi-front information war, both to support its troops on the ground and to counter the propaganda of extremists. The DoD's global public relations war, however, has fostered criticism that the department has over-reached and tarred the efforts of U.S. organizations doing media development work abroad.
During the discussion, Cary noted that the department oversees a large budget for media operations, which are not always open to public scrutiny and whose effectiveness often cannot be measured. He argued that the most serious impact of DoD's information operations is that they undermine the credibility of international media development efforts by USAID, as well as non-governmental organizations. Cary called on Congress and the DoD to tighten and streamline oversight of information operations, while recommending that DoD transfer control of its Trans Regional Web Initiative to the State Department or the Broadcasting Board of Governors. Most importantly, Cary urged that officials overseeing such programs should understand the basic tenets of fair and balanced journalism and leave media development to civil agencies and non-profit organizations.
In Rosa Brooks' response, she observed that dramatic changes in technology and the balance of power among states have blurred lines between state and non-state actors, public and private domains, and combatants and civilians. The balance between meeting some short-term objectives, such as protecting soldiers and civilians, and long-term objectives, including promoting independent media, Brooks said, is difficult. She addressed Cary's recommendation that media development be left to the experts, citing that government departments should not get stuck into "lanes," with assigned roles for each agencies, rather, that they should strengthen coordination and communication. She acknowledged that there is still "a long way to go" in striking such a balance, and welcomed the discussion that NED hosted, as it promotes better cooperation among stakeholders.
Jeanne Bourgault asserted a "do-no-harm" approach to preserve long-term objectives, including not distorting the media market by paying exorbitant amounts to stations to play information operations programming and announcements. Highlighting that messages are most powerful when media outlets clearly identify the source of information, she argued that a healthy interaction between media and government, such as press conferences, sends the best message that the U.S. is trying to promote a strong democracy.
The lively panel discussion encouraged thoughtful questions and comments from the audience, ranging from journalistic integrity to the roles and missions of various agencies within the U.S. government on information and communications.
---
---
Featuring:
Peter Cary
Author, The Pentagon, Information Operations, and International Media Development
With comments by:
Rosa Brooks
Department of Defense
Jeanne Bourgault
Internews Network
Moderated by:
Bill Leonard
National Endowment for Democracy
---
About the author:
Peter Cary is a consultant who specializes in writing, editing, and public relations projects. He is a former managing editor, investigative editor, and Pentagon reporter at U.S. News & World Report magazine. Cary worked at several newspapers, including the Bergen Record and the Miami Herald, before joining U.S. News in 1987. He began there as a national reporter, then became the magazine's Pentagon correspondent, and covered the 1991 Gulf War. He co-wrote Triumph Without Victory, the magazine's book about that war, and subsequently moved to the U.S. News investigative team, which he later led. In his final years at U.S. News, he was the managing editor for news and administration and helped launch several new business ventures. He has won numerous awards for his investigative work, including a Sigma Delta Chi award for an article on the explosion aboard the battleship U.S.S. Iowa in 1989.
About the participants:
Rosa Brooks is the deputy assistant secretary of defense for rule of law and international humanitarian policy and senior advisor to the under secretary of defense for policy. She is currently on a public service leave from her position as a professor at the Georgetown University Law Center, where she specializes in international law. From 2005 to 2009, Brooks was a foreign policy columnist for the Los Angeles Times. Her career has spanned positions in government, academia, and non-governmental organizations, including at the Department of State's Bureau of Democracy, Human Rights and Labor; Yale Law School; the Open Society Institute; and Human Rights Watch, among others. She also has served on numerous boards and advisory groups, including the board of directors of the National Security Network, the steering committee of the White Oak Foreign Policy Leaders' Project, the board of directors of Amnesty International USA, and the Executive Council of the American Society of International Law. Brooks earned a bachelor's degree from Harvard University, a master's degree from the University of Oxford (where she was a Marshall Scholar), and a law degree from Yale Law School.
Jeanne Bourgault is president of Internews Network, which she joined in 2001 as vice president for programs. From 1990-1996, she served with the U.S. Agency for International Development (USAID), including spending three years supporting democracy programs at the U.S. Embassy in Moscow. Following that, Bourgault worked in the former Yugoslavia, serving as a strategic advisor for media development programs in post-war Kosovo, as well as manager of community development projects in Serbia and Montenegro. In late 2000, Bourgault re-opened USAID's Office of Transition Initiatives program in Belgrade following the fall of Slobodan Milosevic. She has consulted on international development program design and evaluation for the Open Society Institute, the Ford Foundation, and the United Nations Centre for Human Rights, among others. Bourgault speaks Russian and holds master's degrees in international studies and public affairs from the University of Washington.
J. William (Bill) Leonard is the chief operating officer at the National Endowment for Democracy (NED). Before coming to the NED, Leonard was the director of the information security oversight office at the National Archives, where he served under Allen Weinstein, who was a key figure in the NED's history and directed the study group that led to its founding. Prior to that, Leonard served as a senior policymaker and senior program manager at the Department of Defense, where he rose to the rank of deputy assistant secretary of defense for security and information operations and was involved in policy, guidance, and oversight of the department's information operations programs. He earned his bachelor's degree in history at St. John's University, and a master's degree in international relations from Boston University. Leonard has taught as an adjunct professor of political science at St. Mary's College of Maryland.
---
Related Reports: