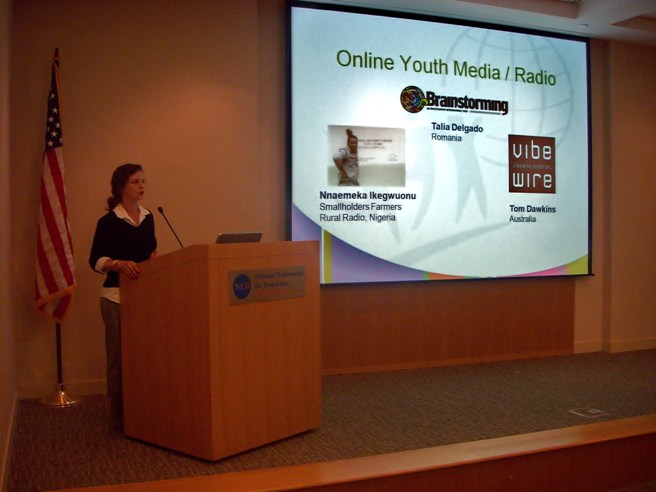 CIMA hosted a workshop on Thursday, May 28 on involving and empowering youth through independent media in developing and democratizing countries. The workshop explored the following questions: what media platforms do youth prefer and why? What is their level of access to these platforms? How do they use these platforms-as generators, consumers, or both? How are non-governmental organizations integrating youth into independent media development and democracy assistance projects? And how can stakeholders address the challenges of engaging youth through independent media in their work, such as limited accessibility and low media literacy?
The goal of the workshop was to address these questions and formulate recommendations for funders, policymakers, and implementers on strategies for engaging youth through independent media.
A report on the workshop is now available.
---
Agenda
Opening and Introductions
Marguerite Sullivan
Senior Director
CIMA
Session I: Information for a New Generation
Youth Matters: The Demographics of Youth Around the World
Carl Haub
Conrad Taeuber Chair of Population Information
Population Reference Bureau
Download PowerPoint
Generation Wired: Access and Use
Haleh Vaziri
Senior Analyst for Global Media and Communications
InterMedia
Download PowerPoint
Media Literacy and Youth
Paul Mihailidis
Assistant Professor of Media Studies
Hofstra University
Open Discussion
Defining youth beyond age-how do we characterize "youth"? What countries/regions have large concentrations of young populations?
What do youth value in a given media platform or outlet? Why?
How are youth influenced by media?
What is the level of access by youth to independent media, and specifically new media? What are the barriers to access? What are the downsides of increased access (for example, increased censorship)?
Are new media shifting the types of information/communication that youth want?
---
Session II: Engaging Youth through Media
Global Voices, Young Voices
Cristina Gallegos
Voices of Youth Coordinator
UNICEF
Download PowerPoint
Youth, Conflict, and Media
Felix Unogwu
Children and Youth Specialist
Search for Common Ground
Download PowerPoint
Talking with My Generation: Connecting Youth
Katherine Kinzer
YouthActionNet
International Youth Foundation
Download PowerPoint
Open Discussion
What are the most effective strategies and tactics by NGOs to ensure youth participation through independent media?
How do organizations use ICT in developing countries to engage youth? Has globalization made this easier or more difficult?
Can media be used to engage youth in peace building and conflict prevention efforts? How?
What are opportunities and challenges linked with youth participation?
To what extent do ICT policies and censorship of press freedom create a barrier to working with youth in authoritarian countries?