Google's latest transparency report, updated today, includes a much-debated policy that has far-reaching implications for access to information and privacy rights.
One year ago, the Court of Justice of the European Union ruled that Internet users have the right to request removal of their names from search engine results, deemed the "Right to Be Forgotten." Compliance by a search engine, specifically Google, is dependent on the whether results shown are "inadequate, irrelevant, no longer relevant, or excessive."
Google's transparency reports, which have been updated since 2009, highlight government and copyright owners' requests for information or removal of information from Google's services. These transparency reports will now include data on "Right to Be Forgotten" requests, a new tab which highlights "European privacy in search."
Of the more than 900,000 URLs that were requested to be removed within European Union countries, Google complied with 41.3 percent, according to the report released today.
Ten sites accounted for eight percent of links that were requested for removal by users. Of those top ten, most are social media sites, including Facebook, YouTube, and Twitter, followed by online directory sites that list personal information.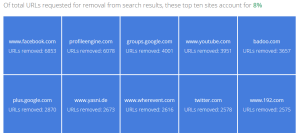 The search engine provided 22 examples of the types of requests submitted by EU users, as well as percentages of URL removal for each EU country in the last year. Google says it takes "the rights of the individual as well as public interest" of content requested for removal into consideration for each individual request.
But, many have called for greater transparency from Google in its "Right to Be Forgotten" dealings. As Rutgers professor Ellen Goodman has noted, "there is very little public scrutiny of how the search engine strikes the balance between individual privacy and access to information concerns."
According to Google's 2014 data, requests for information on users were up 120 percent in four years. This trend could be the inspiration behind many other online companies who have followed Google's lead in publishing takedown requests. In fact, Google's report also includes links to 39 other companies that disclose data about government requests, which include other tech giants like AOL and Microsoft.
With the amount of data available to search engines, Internet service providers, and online companies, there are many questions arising about the scope and application of privacy legislation, particularly as it conflicts with public interest. As Goodman highlights in an open letter from 80 academics calling for more transparency to Google, "there are few safeguards for the public interest in information access."