The COVID-19 pandemic has exacerbated the challenges confronting independent media and forced the media development community—journalists, donors, media practitioners—to rethink how to support for sustainable media ecosystems. Among the wealth of ideas put forward is the need for greater regional cooperation among media advocates to advance local demands. CIMA reached out to two media experts actively thinking about this approach—Melinda Quintos de Jesus, executive director of the Center for Media Freedom and Responsibility (CMFR) in the Philippines and Sulemana Braimah, executive director of the Media Foundation for West Africa (MFWA) in Ghana—in two regions, West Africa and Southeast Asia, with a history of endeavoring to form cross-border coalitions for media sector development and reform.
A recent CIMA research report by Dr. Herman Wasserman, exploring the potential for regional cooperation in Southern Africa, highlighted the many benefits media advocates gain from a regional approach to media reform and development. These include amplifying local voices in regional and international forums, providing space for cross-border learning, and encouraging collective action against threats to media freedom.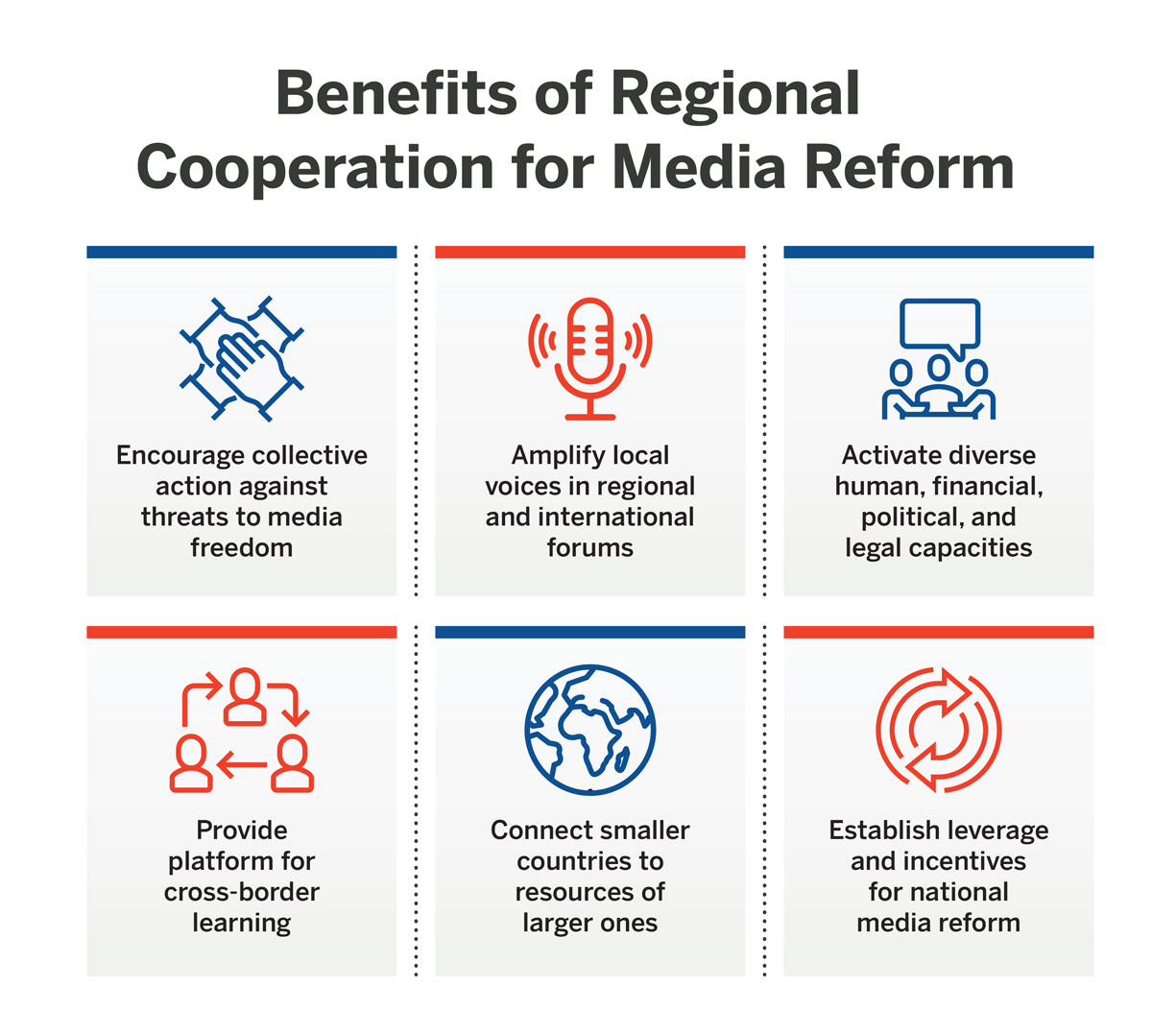 In West Africa, over the past few decades, MFWA has successfully built a regional network of actors to push forward media reforms and tackle a slew of problems faced by the media sector in the region. In particular, the network engages the Economic Community of West African States (ECOWAS) aiming to push the institution to take concrete action on reforms in multiple countries.
In Southeast Asia, on the other hand, while the Southeast Asian Press Alliance (SEAPA) accomplished much in the past by bringing together various journalists, press associations, and press freedom groups to jointly set standards and advocate for change, the network has faltered in recent years and struggled to maintain momentum. The desire for a regional approach to tackle the many challenges faced by independent media, however, remains very high in both regions.
The Impact of COVID-19 on Regional Cooperation
The pandemic has taken an enormous toll on independent media in West Africa and Southeast Asia. This has reduced regional cooperation as media advocates struggle just to make ends meet.
Braimah: "In West Africa, many media houses have had to close and those that have survived have had to cut journalists' salaries in half, sometimes more . . . As a result of this economic impact, lots of media organizations have had to submit to economic and government interests in order to survive."
Quintos de Jesus: "In Southeast Asia, the pandemic has forced everyone in the media community to focus on the local, the national . . . Despite the booming digital capacity, the inability to meet physically and the urgency of the health crisis have simply diminished what used to be an expansive regional outlook."
However, as the pandemic gradually subsidies and connections across borders reemerge, there is a strong belief in a renewed impetus for cross-border collaboration.
Braimah: "The urgency to pick up the pieces and to improve an already weak media environment in West Africa—which has been further devastated by the pandemic—will serve as a catalyst for partners and actors to work together in the region."
Quintos de Jesus: "The present political conditions in Southeast Asia—from the authoritarian grip of Duterte in the Philippines to the recent coup in Myanmar—further limit the opportunities for cross-border collaboration. Despite this challenge, the media development community will have to focus on renewal, reform, and reevaluation of past practices in support of independent media. There is a need for independent media to review what purpose it serves, reevaluate the conventions that govern the practice, and become more proactive as a community seeking to work in the public interest rather than simply as a reactive force to events and crises."
The Path Forward
To advance media reform and development, media advocates will need to tap into lessons from past successes of both SEAPA and MFWA.
Quintos de Jesus: "Despite the barriers to cooperation and coordination in Southeast Asia—such as different languages and cultural contexts—lessons can be gleaned from the early successes of SEAPA. SEAPA had a strong beginning, because those who got it together shared a common vision that had grown out of having met one another in regional conferences, becoming good friends and colleagues. This is what sustained the work. Now there must be a new, second generation of commitment to SEAPA to sustain the network. We must once again find those kindred spirits among organizations in the region . . . and build up the cultures and connections between them."
Braimah: "MFWA's early successes in working with ECOWAS have prompted discussions of new ways forward. At present, we are having conversations around whether ECOWAS could serve as a platform through which many small states could jointly pressure tech giants on issues such as ad revenue, content moderation, and disinformation. Should ECOWAS as a community make such a decision because individual members are poor and can't negotiate with Facebook or Google? Should ECOWAS negotiate on behalf of these individuals? Should it be the African Union negotiating on behalf of the entire content? Either way, that would systematically change media development in the region."
The need to reevaluate a regional approach amidst the pandemic has also sparked conversations about learning from the mistakes of the past.
Quintos de Jesus: "SEAPA's organizational weaknesses hold lessons for the future of the network. A secretariat cannot take the place of member organizations actually working together to address the different needs of the media in member communities and consolidating their strengths to assist in overcoming challenges.  A new generation of media advocates in the region must dedicate themselves not necessarily to forming an organization, but to deepening ties between existing organizations and individuals, finding common ground and shared priorities, tapping into regional and international forums, and seizing windows of opportunity to address not only the challenges in the media systems, but broader anti-democratic forces."
Finally, another way forward is not only deepening cross-border collaboration but enhancing cross-sectoral relationships.
Braimah: "When we as MFWA led efforts to develop a regional network on media sector development, we went beyond just working with traditional media support organizations . . .  and started to engage other stakeholders, such as human rights organizations working on freedom of expression and advocates for transparency and accountability whose work has an impact on the media space. Across West Africa, we have built coalitions with organizations working on these broader human rights and democracy issues and come together to have conversations about how to strengthen the media sector. These connections across sectors were limited before but are now seen as essential to advancing media freedom in West Africa."
Quintos de Jesus: "The Philippines has had a strong tradition of cross-sector collaboration. This is also true in some parts of Southeast Asia. We understand how interrelated human rights, women's rights, public health, and other democracy issues are with media sector development. Even now, there is a hunger for it, we just have to find a way to insert it in everyone's agenda so that everyone gets helped."
What Role for the International Development Community?
The buck does not stop with regional networks in West Africa and Southeast Asia. Donors, implementing organizations, and research institutions also have a role to play in this process.
Quintos de Jesus: "Donors should be open to supporting different ways that a network can conduct its regional activities. There is more than one model for regional collaboration. The founding SEAPA organizations started doing regional projects and programs even before SEAPA could be formally registered. Understanding the needs of different communities requires diversity in collaboration. The same issues and concerns hold: are projects being implemented, are reports submitted, are the finances in order?" 
Braimah: "Addressing the priorities and demands of local actors is essential. In West Africa, right now there is demand for more research and understanding of the media landscape. We need empirical studies that could help media organizations take proactive steps on how to generate revenue, the technology behind that process, and audience research on who is consuming news. This lack of research has hindered the ability of news outlets to properly generate readership and revenue. We also need studies that explore what the media community and media entrepreneurs think about the current arrangement between news media and tech giants. How is Google impacting their work? Does the current arrangement mean that Google and Facebook are taking everything or is it beneficial for media operations? Without a solid base of knowledge, even opinion on the issues, it is difficult for us as media advocates at the local, national, and regional level to properly propose solutions."
Seizing the Moment
Can the recovery from the COVID-19 crisis provide a spur to further regional cooperation? Could the months ahead be an opportunity to make progress on this agenda?
Quintos de Jesus: "This moment needs to be a battle cry. There is a hunger for getting together and actually looking at what can be done. But we must all recognize, as societies, that the promotion of quality media is not just the business of the journalism community, but every single group that still believes in press freedom and democracy."
Braimah: "Strengthening independent media and advancing media reforms globally will require further cooperation locally, nationally, and regionally if we are to see truly sustainable media ecosystems on the other side of the pandemic. This goes beyond a commitment by media advocates on these issues. It ultimately calls for stronger national-level and regional-level activism. Strengthening regional networks is now more important than ever before."
---
Aleksej Demjanski is the Assistant Program Officer at the Center for International Media Assistance. In this role, he builds and maintains partnerships with individuals and organizations working in media development, leads CIMA's regional consultations initiative, and supports CIMA's research and publications efforts. Aleksej holds a Master of Global Policy Studies from the LBJ School of Public Affairs and an M.A. in Russian, East European, and Eurasian Studies from the University of Texas at Austin. His research and policy interests are at the intersection of corruption, social movements, and media with a focus on Southeast Europe (Balkans). You can find him on Twitter at @ADemjanski.