"Know your audience" is the basic tenet of any communicator—and newsrooms are no different. In fact, a failure to understand their audiences will certainly lead to a news organization's failure; either failure to report on facts and events relevant to their communities, or failure to keep an organization afloat financially when their product does not sell in a local market.
This is why audience research is so crucial to a news organizations's—and increasingly a newsroom's—development, as a means to gauge impact. But a fundamental knowledge of how their audiences operate is sorely lacking in many newsrooms—particularly in the developing world.
A lack of resources, be they financial or personnel, contributes to this problem. In emerging newsrooms, it's hard enough to pay your own staff a living wage (a fact that's true even in established newsrooms), let alone spend money on compiling data sets on the minutiae of readership. But without it, getting to the next step is difficult. Despite this necessity, building capacity for audience research is rarely a focus for international media development programs.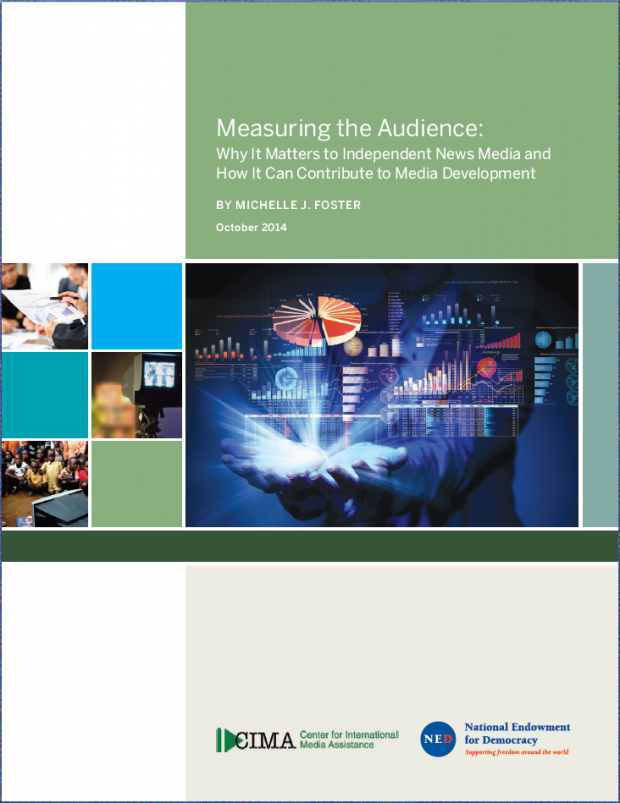 This was the subject of a recent CIMA report, Measuring the Audience: Why It Matters to Independent News Media, featured at the German Forum Media Development (FOME) in Bonn, Germany in late 2014. In it, Michelle Foster delves into the role of audience research in sustaining independent media's business and audience development models, particularly as technological convergence changes the way consumers interact with media.
"Market research is an important piece that helps keep the other pieces in place," says Leon Morse of IREX in Foster's report. "You can achieve certain things with quality journalism and a good legal environment. But if you don't have good audience measurement and good market research, it's easier for the other pieces to slip backwards."
CIMA is holding an event next week on this very issue, featuring Foster, Morse of IREX and Evan Tachovsky of the Media Development Investment Fund. We'll be looking at how the media development community can better integrate aspects of audience research into its practice, and ways in which the donor community can better support this type of work.
Watch the event live here next Wednesday, January 14 at 3 p.m. EST, and send us your thoughts and questions via #cimaevents.