By Anya Schiffrin
Panic about the business model for journalism has surfaced again in the United States with the recent layoffs at Buzzfeed, Mic and, Vice. But digital-first outlets in the Global South have known for years that survival is extremely difficult especially for global muckrakers who want to hold power to account and do serious reporting. Getting creative, borrowing office space, relying on volunteers and citizen journalists, keeping costs low, holding events and doing consulting will only get you so far. Many of these start-ups have learned that funding from foundations (Gates, Luminate, Open Society Foundation) and grants from European governments, USAID, and DFID is essential to their survival. The Center for International Media Assistance has been working to persuade donor countries to spend more on supporting media in the global south.
In 2015, I worked on the report Publishing for Peanuts, which surveyed 35 media startups, often run by brave journalists in dangerous conditions. In 2018 we decided to go back and see how the outlets had fared in their efforts to become self-sustaining. Despite breaking news, having impact, and planting themselves firmly in their local communities, they are mostly still dependent on donor funding. Three of the outlets had failed, and six had been seriously reconfigured or renamed.
Not everyone replied to our queries, but in the end, we spoke to 21 outlets from 2015 and five outlets we had not interviewed before. In hour-long interviews we conducted between July and December 2018, we asked the editors and founders to describe their business models and to reflect on their mission, their successes and failures, and how they survive. Among others, we spoke to Daily Maverick (South Africa), Frontier Myanmar (Myanmar), Himal Southasian (recently forced out of Nepal and now based in Sri Lanka), Malaysiakini (Malaysia), Oxpeckers (covering Southern Africa), and Sin Embargo (Mexico). We included sidebars on the bloggers in Kenya and the investigative digital-first scene in Mexico.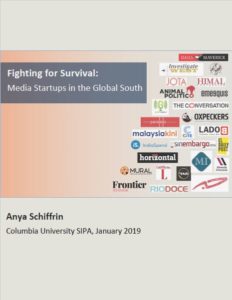 Our key findings:
Financial survival is the biggest worry for the media outlets we profiled, followed by political risk and physical safety.
The outlets remain dependent on donors. Advertising is hard to come by and raising funding from audiences has proven difficult. Donors need to accept this reality and be willing to commit to long-term support for outlets creating a public good.
Amid the grim political climate, rise of right-wing demagogues, and attacks on the media, there has also been an outpouring of appreciation for independent journalism. They recounted tales of support and encouragement from their audiences, but this sentiment does not translate into sustainable forms of funding.
The outlets have professionalized in the sense that many now have accounting software, bookkeepers, and full-time staff working on grant-writing. Many still rely on unpaid contributors and some use office space that was provided for free or rented at a discount.
Membership models are in fashion, but we believe that these models, while able to provide niche funding, are even less likely to scale and provide core funding than crowdfunding. Selling memberships puts an additional demand on audiences, asking them for not just their money but also their time.
There may be a need for an industry-wide body that would assist small civic-minded outlets in building capacity and doing international fundraising. At the moment, a group of donors offer some services but not others, but there is no one-stop shop. The Global Investigative Journalism Network is making attempts in this regard and has been answering requests for assistance from all over the world and helping with business strategies. They've also added an extensive section on the GIJN website's Resource Center devoted to sustainability issues. Other organizations are also trying to assist. Certainly, media startups often do not make use of what does exist, partly because they are not aware of what is available or lack the time to plan for the future.
It's time for donors to accept that many of the outlets they support—which are so essential to society—need help to survive. The job for donors is to coordinate their efforts and to figure out how to help without creating market distortions. Indeed, too much competition for outside funding can create little incentive for innovative startups to pop up in the future. At the same time, donors need to ensure that they are not keeping alive outlets that do not have a significant audience. This is a difficult balancing act, but one that can be accomplished by better collaboration among donors.
The report, Fighting for Survival: Media Startups in the Global South, is available here.
---
Anya Schiffrin is the director of the Technology, Media and Advocacy specialization at Columbia University's School of International and Public Affairs. She is a member of the advisory board of Open Society Foundation's Program on Independent Journalism and the Natural Resource Governance Institute and in spring 2016 joined the Global Board of the Open Society Foundation.