When people in the Democratic Republic of the Congo (DRC) took to Twitter in June to protest skyrocketing internet and mobile data prices, it was only the latest in a series of struggles between Congolese netizens and the government over internet policy.
On May 17, netizens in the DRC were shocked to discover that prices for fixed and mobile internet packages had increased dramatically overnight, without warning. These price increases ranged from 35 to 500 percent. In the DRC, where the cost of internet access is already steep due to failing infrastructure, poor industry regulation, and government taxation, the hikes were enough to suddenly make internet access impossible for thousands of users.
The price surge came at a time when access to information, especially on mobile devices, couldn't have been more important. Just weeks before, protests broke out around the country after the DRC's highest court ruled that current president Joseph Kabila could remain in power if elections are not held as scheduled in November. Journalists needed to send and receive messages on the ground. Citizens rushed to discuss online how this development might be a demonstration of Kabila's refusal to submit to a peaceful, democratic transfer of power. The vast majority of these mobile data users couldn't afford to pay more for their already-limited internet access.
Internet service providers (ISPs), including major players Airtel, Vodacom, and Orange, claimed that prices shot up because the government increased taxes on their operations, making previous rates unsustainable. The government, in turn, denied any role in the increase. Thomas Luhaka, the Minister of Post and Telecommunications and New Information and Communication, claimed that none of the companies had ever secured permission to raise prices. Citizens were caught in the middle of the blame game.
@remykasindi @airtelrdc @orangerdc @vodacomrdc1 Au regime. Moins de gens ont acces a l information.

— NTUMBA KABISA (@ntukabisa) July 11, 2016
A History of Barriers to Internet Access
Although freedom of expression and the press are supposedly guaranteed by the DRC's 2006 constitution, the reality is that the government regularly restricts access to media both directly and indirectly. There are very few laws that govern the internet or digital media specifically; the vast majority of government responsibility for regulating these entities falls under the jurisdiction of the Regulatory Agency for Post and Electronic Communication (ARPCE). The agency is tasked with handling all aspects of research and investigation on the sector, setting tariffs, and enforcing operations standards, among other things. Perhaps most importantly, the agency has the power to shut down any and all telecommunications services when the government determines doing so is in the best interest of the state (for any reason). In January 2015, this became a reality when deadly clashes between law enforcement and political protestors led to a government-ordered shutdown of all internet and cellular communications networks–a violation of international law as dictated by the United Nations International Covenant on Civil and Political Rights.
Although this government-mandated shutdown attracted significant international attention, it is the government's indirect manipulation of internet prices that makes regular, reliable access to digital information unavailable to the majority of the DRC's citizens. Even in comparison to neighboring countries, the quality of telecommunications services in the DRC is poor, and the prices of these subpar services are shockingly high. A World Bank report in 2015 found that the cost of bandwidth in the DRC is up to ten times more expensive than it is in neighboring east African countries. As a result, the rate of traditional internet usage in the DRC is extremely low–less than 3%.
Une raison de plus de protester demain. pic.twitter.com/eYqSz0qZMf #nuitsdeboutdekin #mouvementdeboutrdc #rdc #kinshasa

— Nuits Debout de Kin (@nuitdeboutdekin) June 17, 2016
By contrast, mobile internet accessed via a data plan on a cellular phone is a cheaper and more convenient option, although it still remains relatively expensive. Mobile internet usage is growing fast–recent penetration rates are estimated to be around 30 percent-but a study by Strategy& found that for mobile internet access to be affordable for 80 percent of the population of the DRC, data plan prices need to drop by another 96 percent.
A price reduction that steep would require significant restructuring–both physical and financial. Telecommunications infrastructure throughout the country needs intensive repairs and upgrades in order to stabilize service and decrease high operating costs. The World Bank has invested over $200 million in the Central African Backbone project intended to improve high-speed internet infrastructure. But another similar project, managed by the DRC's state-owned telecommunications company and funded by Chinese banks, has been a significant letdown after it was revealed that millions of dollars intended to improve the country's telecommunications 'backbone' were misused and little has been accomplished to improve unreliable connections or decrease prices.
It is the DRC's taxation of telecommunications companies that could yield the most immediate changes to the price of internet, especially mobile data plans. Certainly, it was these tariffs that sent prices skyrocketing overnight in June and that spurred netizens into protest. The mobile sector in the DRC is subject to an unusually high tax rate, due to compounding value-added taxes and excise duties, both of which translate directly to higher prices that disproportionately affect low-income consumers. Thus, instead of making mobile phones and data more affordable to reap the positive benefits of increased connectivity, the DRC's mobile sector tax policy discourages consumers from purchasing phones and data plans and thus hinders potential growth.
Other African countries have successfully decreased taxes on telecommunications services to boost information and communication technology (ICT) penetration rates, including Kenya and Malawi (although the progress was short-lived). There is good evidence that decreased taxes pave the way for better ICT development. But the DRC's ARPCE continues to interfere with the price of internet access. In 2014, the High Court of Kinshasa condemned the ARPCE for unlawful price setting, a position that was echoed by the International Telecommunications Union (ITU), but the agency continues to manipulate prices today, leading to sudden, severe price fluctuations like the one in June.
Growing Resistance to Price Manipulation
Many groups in the DRC refused to accept the steep price increase. The National Congolese Press Union (UNPC) issued a press release on June 9 condemning the hike, saying they were "distressed by the incommensurable and foul increase in the price of mobile internet services, without any known cause, measuring from ten to 500 percent." Stressing the importance of the internet–especially on mobile devices–as both a tool for journalists and a means to distribute their work, the UNPC also instituted "Lundi Sans Presse" [Mondays Without the Press] in protest of increased data prices.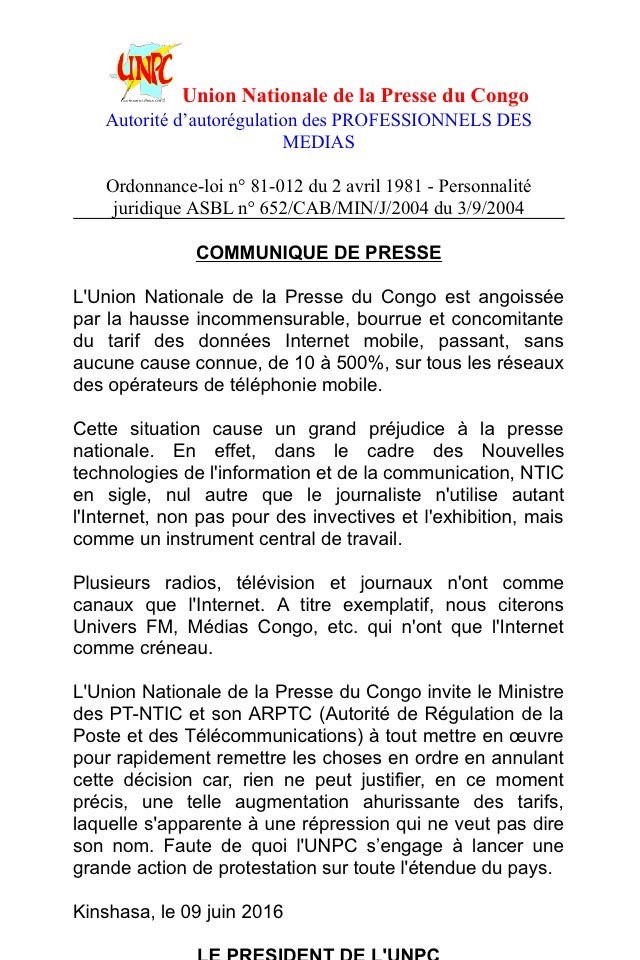 On Twitter, netizens used the hashtag #nuitsdeboutdekin to organize conversation about the price increase and to coordinate protests in Kinshasa, the country's capital. At the first rally, on June 11, four peaceful protesters were arrested, then released. Another protest on June 18 took place in front of protesters' "mobile provider of choice."
#kinshasa #nuitsdeboutdekin pic.twitter.com/CtP9V2Mscr

— Nuits Debout de Kin (@nuitdeboutdekin) June 11, 2016
On June 19, the ARPTC announced that it had ordered mobile internet service providers to drop prices to previous levels. Thomas Luhaka tweeted a picture of the press release with the caption "Thank you for your confidence!" He also shared a series of stories from news outlet TopCongo suggesting that mobile internet providers were to blame for the incident. In an interview, Luhaka adamantly declared, "The supposed desire of the government to make the internet inaccessible and to restrict these rights can be ruled out immediately."
Merci pour votre confiance!@TopCongo @Diasporakatanga @soniarolley #RDC pic.twitter.com/FC0v5x6iSh

— Thomas Luhaka Losend (@ThomasLuhakaL) June 19, 2016
Prices have since been lowered to levels close to where they were before June, but if these rates truly are unsustainable, as the mobile service providers have claimed, it will be impossible for them to stay at that level without significant changes to technology or government policy. In the meantime, netizens say that while prices have decreased, the quality of internet connection remains low. Given the huge amount of progress that the DRC has yet to make in the field of affordable internet access, the way in which the government chooses to respond to this public outcry in the long term will be a major determinant of how quickly the benefits of ICT reach its citizens.
---
Madeline Wilson was an intern at the Center for International Media Assistance at the National Endowment for Democracy. She is a student at Washington University in St. Louis, where she is studying International Affairs, French, and economics. Follow her on Twitter @maddiegwilson.